Shake Hands With Danger
Please choose a format above.
The world of Safety Instructional Films breaks down into two distinct categories: Shake Hands with Danger, and everything else.  If you like your hair feathered, your glasses huge and your moustaches grown at an eighth grade level, this is the short for you.
Narrated by a guy who was rejected from the Dukes of Hazard narrator job for sounding too much like a cotton-pickin' bumpkin, Shake Hands with Danger explores the terrifying world of construction work.  Sponsored by the Caterpillar heavy machinery company, it chronicles the myriad of ways you can hurt, dismember, maim or kill yourself using Caterpillar brand heavy machinery.  No action is free from potentially life-ending consequences!  Even if you stay home and lock yourself indoors, the bulldozer will just barrel your house over before seeking out the rest of your family!!  Nobody is safe!!! Nobody!!!! 
Yes, riff fans of all ages will enjoy this lighthearted timecapsule of the 1970s, set to one of the catchiest Industrial Safety-based jingles we've ever heard.
Mike, Kevin and Bill have never shaken hands with Danger, but they did give Danger that "fist bump then explosion" thing, and then Danger called them all "Bro-seph."
**Please note that this short does not contain the animation found on the RiffTrax Shorts Vol. 1 DVD**
Digital Video file formats
Legacy Devices (55.75 MB)
All digital products you purchase from RiffTrax.com are DRM-free, can be played across a large variety of devices, and are yours to keep ... forever! Even if you have a hard drive meltdown, you can always log back into the site and re-download all of your previous purchases.
For our Download and Stream products, you can stream the product to your computer or to your TV via Chromecast, or download to a device that can play the MP4 file format. For more information on our video formats, please see this KB article.
Just the Jokes are simply MP3 files which are DRM free and can be enjoyed on any device that can play this common audio format.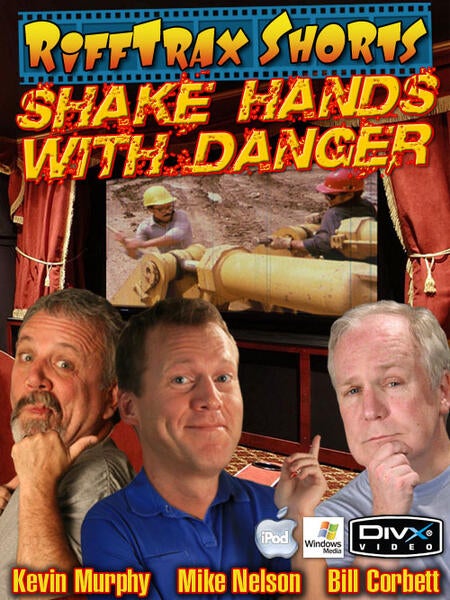 Riffed By