Measuring Man!
Please choose a format above.
By day, he's a mild-mannered milkman with thick-rimmed glasses. But, when duty calls, he becomes something even less thrilling - Measuring Man! Does he remove the thick-rimmed glasses when he becomes Measuring Man? No he does not! Apparently when your only powers involve measurement education, you don't have to worry about super-villains figuring out your alter ego. Besides, look at him, he definitely needs those glasses.
In this measuring adventure, our hero teaches young Tommy the basics of, well, measuring. Tommy has somehow survived to the age of nine without learning concepts like "bigger" or "smaller." Fortunately, Measuring Man is here to help. He uses his terrifying cosmic powers to whisk Tommy from the safety of his kitchen off to Measuring Land, a place beyond all imagination, assuming your imagination operates at the level of a hastily-planned middle school play. But that's not all Measuring Man has! He also sports a belt full of measuring objects that are, well… suggestively shaped? Suffice to say, if you want to take the measure of a man, Measuring Man is your man.
First performed live to immeasurable laughter at our Miami Connection live show, now available as a studio riff, join Mike, Kevin, and Bill for Measuring Man!
Digital HD Video file formats
All digital products you purchase from RiffTrax.com are DRM-free, can be played across a large variety of devices, and are yours to keep ... forever! Even if you have a hard drive meltdown, you can always log back into the site and re-download all of your previous purchases.
For our Download and Stream products, you can stream the product to your computer or to your TV via Chromecast, or download to a device that can play the MP4 file format. For more information on our video formats, please see this KB article.
Just the Jokes are simply MP3 files which are DRM free and can be enjoyed on any device that can play this common audio format.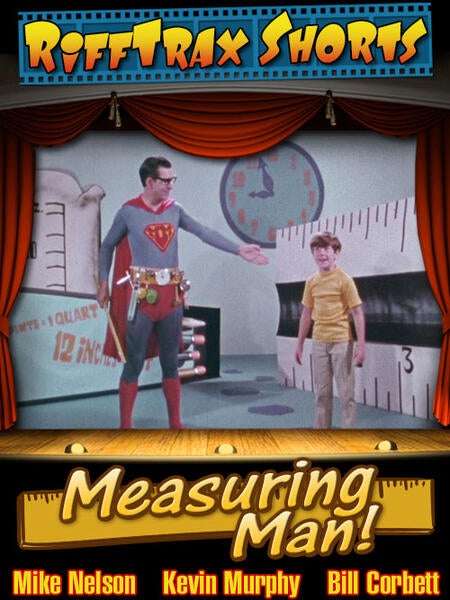 Riffed By