Last Clear Chance
Please choose a format above.
We've got a brand new riff of Last Clear Chance, a high watermark in the storied genre of "Driver's Ed films intended to scare the crap out of you!" It was made in 1959, so the lessons are harsh and the haircuts are stern.
In the heartland of America (read: some farm), young Alan is excited to receive his driver's license. What joy, what fun! Not so fast, says Officer Hal Dixon, who crashes the family's picnic lunch to shame Alan for past misdeeds in front of his parents and confused grandpa. Officer Hal goes on to let Alan know one of his teenage friends recently died in a tragic auto accident. Thanks for joining us, Hal, next time bring some potato salad we can cry into!
Keen viewers will learn a thing or two about railroad crossings, and keener viewers might notice… the accident that killed Alan's friend was really Officer Hal's fault? Dig deep for the truth, and don't miss your chance to join Mike, Kevin and Bill for Last Clear Chance!
Written by Mike Nelson, Conor Lastowka, and Sean Thomason
Digital HD Video file formats
Legacy devices (68.37 MB)
High (TV) 480p (321.71 MB)
HD Medium 720p (322.8 MB)
All digital products you purchase from RiffTrax.com are DRM-free, can be played across a large variety of devices, and are yours to keep ... forever! Even if you have a hard drive meltdown, you can always log back into the site and re-download all of your previous purchases.
For our Download and Stream products, you can stream the product to your computer or to your TV via Chromecast, or download to a device that can play the MP4 file format. For more information on our video formats, please see this KB article.
Just the Jokes are simply MP3 files which are DRM free and can be enjoyed on any device that can play this common audio format.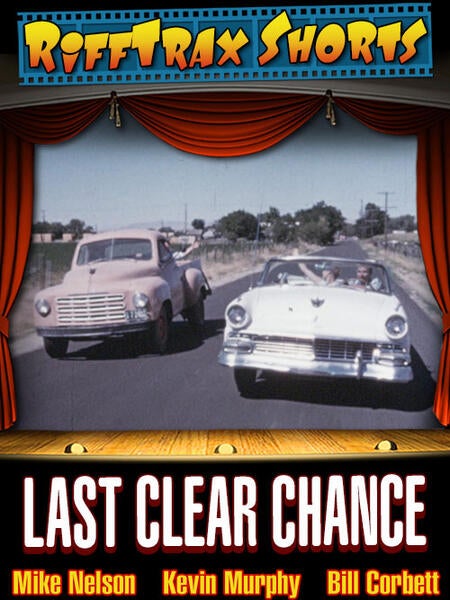 Riffed By