With An All-star Cast
Please choose a format above.
The title of our new short, With An All-Star Cast, could describe all kinds of movies. Ocean's Eleven, Love Actually, Cannonball Run, and however many of those Expendables things they're gonna throw at us. But there are stars bigger than any of the meatheads, smooth talkers, and leading ladies you'll find in those films, stars who shine so bright all the world can see them, smell them, even taste them. The name of these true stars?
MEAT.
Yes that's right, meats, in all their vaguely pink 1950s splendor, come to life on the silver screen! It's an amazing film-within-a-film that puts Sunset Blvd to shame (only because Sunset Blvd was sorely lacking in five-pound pork chops). A male actor fails to cook properly on the set of a cooking short, so naturally the filmmakers trick a woman into doing his job for him! Yeah, like we said, it's the 50s.
Strap on your bib, crack the seal on a new bottle of barbecue sauce, and get ready to roast and broil the greatest stars of all: With An All-Star Cast!
Digital HD Video file formats
Legacy devices (56.72 MB)
All digital products you purchase from RiffTrax.com are DRM-free, can be played across a large variety of devices, and are yours to keep ... forever! Even if you have a hard drive meltdown, you can always log back into the site and re-download all of your previous purchases.
For our Download and Stream products, you can stream the product to your computer or to your TV via Chromecast, or download to a device that can play the MP4 file format. For more information on our video formats, please see this KB article.
Just the Jokes are simply MP3 files which are DRM free and can be enjoyed on any device that can play this common audio format.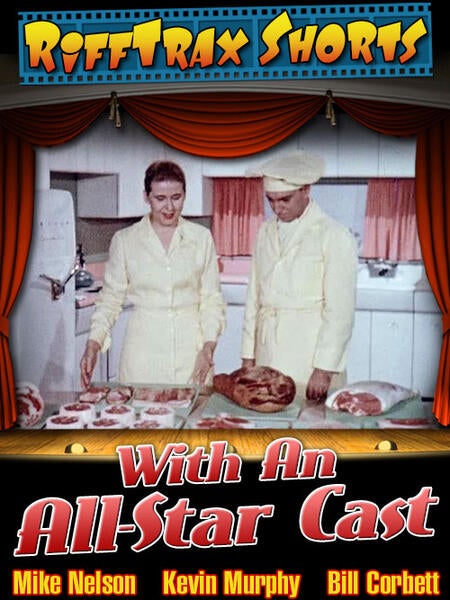 Riffed By