Walking to School
Please choose a format above.
Imagine you are a 1950s elementary school student, and you have just walked to school. Sure, you didn't really want to go, but now you're there and ready to learn. Maybe enjoy a vintage Cold War-era nuclear bomb drill, a great opportunity to crawl under your desk. As you settle in, resting your legs which you have just used to walk to school, the teacher puts an educational film into the projector. The subject...Walking to School?!?! What!? But, but, that's what you just did! It's the one thing you DEFINITELY don't need to learn! Just by virtue of BEING at school, it should be clear that...no, no, you calm yourself. Teacher knows what she's doing, quell your rage, this film must have value.
WRONG AGAIN! As the minutes of your life tick by, you see the film is nothing but an excruciating real-time enactment of two kids walking to school! And these particular kids happen to live absurdly far from their school, traversing overpasses, underground tunnels, and even unexplored regions of the Yukon in their voyage. And, wait, they're brother and sister, why won't they stop holding hands?! You hold your tongue and prepare to take out your stifled aggression on anyone who looks at you funny at recess later in the day, because it's the 1950s and that's just what you do.
Join Mike, Kevin, and Bill as they hurl stale Twinkies at passing kids who are Walking to School. And once they're done with that part of their everyday morning routine, they will watch the short Walking to School!
Digital Video file formats
High Quality (MPEG-2) (283.65 MB)
Commentary (mp3) (7.13 MB)
Source audio (mp3) (9.1 MB)
All digital products you purchase from RiffTrax.com are DRM-free, can be played across a large variety of devices, and are yours to keep ... forever! Even if you have a hard drive meltdown, you can always log back into the site and re-download all of your previous purchases.
For our Download and Stream products, you can stream the product to your computer or to your TV via Chromecast, or download to a device that can play the MP4 file format. For more information on our video formats, please see this KB article.
Just the Jokes are simply MP3 files which are DRM free and can be enjoyed on any device that can play this common audio format.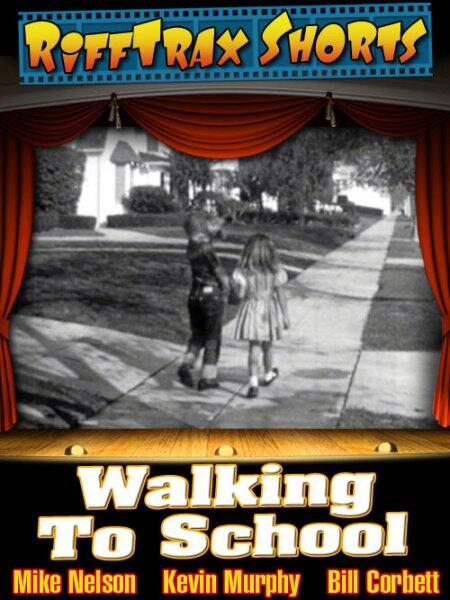 Riffed By