Suburban Sasquatch
Something you should know:
Contains Strong Language and REALLY stupid, bloody violence
Please choose a format above.
Right off the bat, there's one thing you should know about the Suburban Sasquatch: his nipples are huge.
Huge, detailed, and poorly sculpted. He barely comes near a suburb in the entire course of the movie, so it should probably have been called Big Detailed Nipples Sasquatch instead. But hey, hindsight is 20/20. (20 is also roughly the diameter of the sasquatch's nipples, in inches).
It's an extremely homemade horror film in the vein of Feeders. Speaking of veins, the ones in this movie are all full of cheap digital blood that squirts out like a "violent" computer game from the 90s. And the cast of characters full of that cheap digital blood is rich: schlubby reporter guy, the cops with thick Pennsylvania accents and floppy hats, and the Native American huntress who shows up with a bow sort of magically, whenever, and lives in a mystical tent from the bargain bin at Dick's Sporting Goods.
There's too much arm-ripping blood-chugging goodness to describe here — this is a special one. Be warned: at one point in the film, a stuffed toy dog is ripped in half. It's, uh, "gruesome"? Head to not-really-the-surburbs with Mike, Kevin and Bill for Suburban Sasquatch!
Written by: Mike Nelson, Bill Corbett, Conor Lastowka and Sean Thomason
Contributing Writers: Jason Miller and Zachary Shatzer ​​​
Digital Video file formats
Legacy devices (293.22 MB)
Burnable DVD Image (3.99 GB)
BONUS! Sasquatch Maze by Eric Eckert (aka @idrawmazes) (2.95 MB)
All digital products you purchase from RiffTrax.com are DRM-free, can be played across a large variety of devices, and are yours to keep ... forever! Even if you have a hard drive meltdown, you can always log back into the site and re-download all of your previous purchases.
For our Download and Stream products, you can stream the product to your computer or to your TV via Chromecast, or download to a device that can play the MP4 file format. For more information on our video formats, please see this KB article.
Just the Jokes are simply MP3 files which are DRM free and can be enjoyed on any device that can play this common audio format.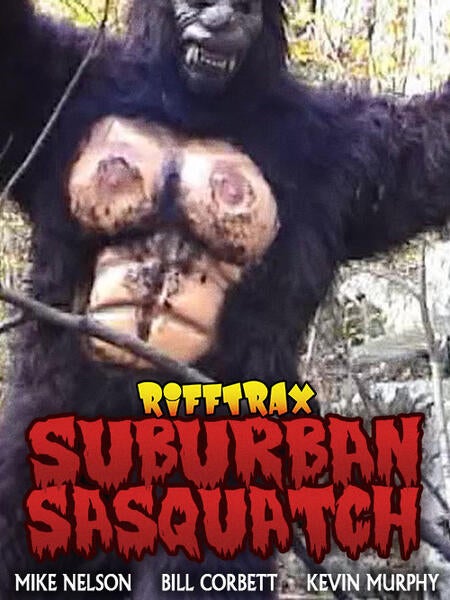 Adult language
Graphic violence
Riffed By