Starting School
Please choose a format above.
Fall is here and it's time to start school! And what's the most important part of school? Math? Reading? Arts and crafts? WRONG! It's sitting quietly and watching educational shorts about other kids doing all of those things!
Kids like Mark, who wants to be a (verbatim quote) "telephone person" when he grows up. Or Michael, who informs teacher that the sound of a beating heart sounds like (yet again another direct quote) "boxing gloves." Or Damon, who… Oh boy, let's just say that Damon is going to have some issues once the other kids start learning what "beating up the biggest dork in school" is.
Joining these little tykes are teacher's casual sexism, impressions of Indians that are still stuck in the 1870s (or 2015 NFL teams), and a completely needless frame story, and you've got our latest baffling "educational" short: Starting School!
Digital HD Video file formats
Legacy devices (53.51 MB)
All digital products you purchase from RiffTrax.com are DRM-free, can be played across a large variety of devices, and are yours to keep ... forever! Even if you have a hard drive meltdown, you can always log back into the site and re-download all of your previous purchases.
For our Download and Stream products, you can stream the product to your computer or to your TV via Chromecast, or download to a device that can play the MP4 file format. For more information on our video formats, please see this KB article.
Just the Jokes are simply MP3 files which are DRM free and can be enjoyed on any device that can play this common audio format.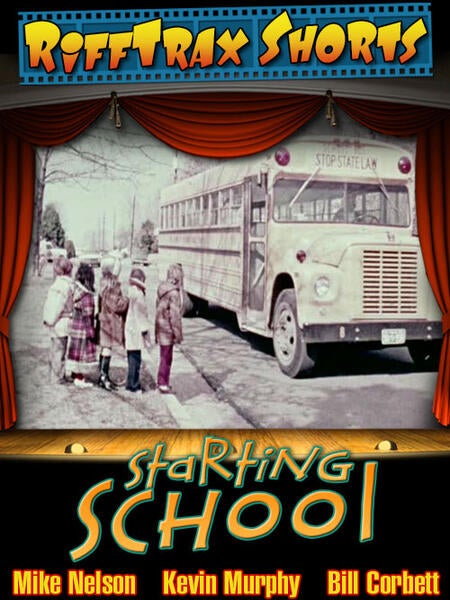 Riffed By