Silent Night: The Story of the Christmas Carol
Please choose a format above.
"Silent night, holy night…" Yes, you've probably heard the famous carol dozens of times in your life. And every time, you surely thought to yourself "What is the story of this Christmas carol? I must know!" No? No, not even once? Even now, you find yourself nodding off at the idea of learning where this Christmas carol came from? Well snap out of it, because Coronet Films is here to give you the origin story you never asked for!
Silent Night: The Story of the Christmas Carol opens on a family being bothered by carolers, ironically making the night less silent with their droning. From there a narrator whisks us off into history, specifically the tiny village of Oberndorf, Austria where the song was born. We don't want to give away too many spoilers, but it involves a priest walking down a hill, a musician with the sideburns of a 60s country singer, and the true hero of the tale: a traveling organ-mender. Yes, somehow wandering remote European villages and asking if they had any organs to mend was once a job. Nowadays doing that would just get you dirty looks, and possibly arrested.
We've had enough depictions of Batman and Spider-Man's origin stories, it's time to learn one that nobody else at the holiday party will know. Buckle up for the soothing ride of your life, join Mike Kevin and Bill for Silent Night: The Story of the Christmas Carol!
Written by Mike Nelson, Bill Corbett, Conor Lastowka, and Sean Thomason
Digital HD Video file formats
Legacy devices (49.57 MB)
High (TV) 480p (245.56 MB)
HD Medium 720p (246.44 MB)
All digital products you purchase from RiffTrax.com are DRM-free, can be played across a large variety of devices, and are yours to keep ... forever! Even if you have a hard drive meltdown, you can always log back into the site and re-download all of your previous purchases.
For our Download and Stream products, you can stream the product to your computer or to your TV via Chromecast, or download to a device that can play the MP4 file format. For more information on our video formats, please see this KB article.
Just the Jokes are simply MP3 files which are DRM free and can be enjoyed on any device that can play this common audio format.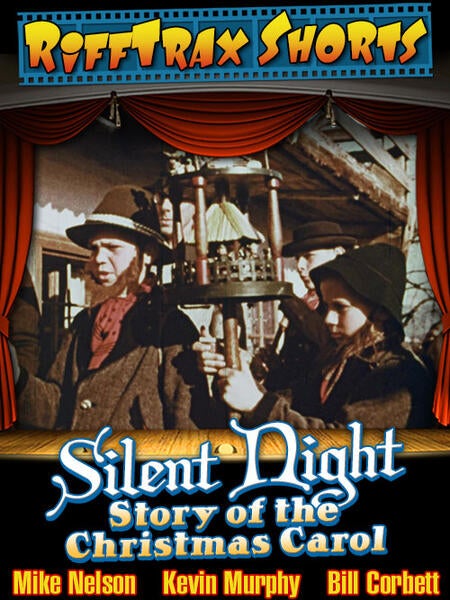 Riffed By