RiffTrax Live: Santa Claus
Please choose a format above.
From the strange and ridiculously colorful world of K. Gordon Murray comes the 1959 Holiday classic Santa Claus. Made in Mexico and dubbed into glorious English, Santa Claus tells the story of, well, Santa Claus, who lives in a big white castle above us in Geosynchronous Orbit and watches over us all in a way that would make the NSA jealous. It's Christmas Eve, and on Earth poor little Lupita wishes for a doll. Santa hears her wish and prepares for his yearly visit, helped by the heavily medicated Merlin the Wizard and Santa's unintentionally creepy mechanical reindeer.
But wait, who's that trying to foil Santa's plans and ruin Christmas? It's the Devil of course, who sends his leotard-bedecked demon Pitch to turn the children against Santa and ruin Christmas. Pitch endlessly plots, and fails, to thwart Santa's magical ride. The tension mounts - will Santa be able to foil Pitch and his minions, will he save Christmas and get poor Lupita her doll? The answer is Yes, of course, this is a Christmas movie, people! Come on!
Digital Video file formats
Legacy devices (462.06 MB)
Digital HD Video file formats
Legacy devices (462.06 MB)
All digital products you purchase from RiffTrax.com are DRM-free, can be played across a large variety of devices, and are yours to keep ... forever! Even if you have a hard drive meltdown, you can always log back into the site and re-download all of your previous purchases.
For our Download and Stream products, you can stream the product to your computer or to your TV via Chromecast, or download to a device that can play the MP4 file format. For more information on our video formats, please see this KB article.
Just the Jokes are simply MP3 files which are DRM free and can be enjoyed on any device that can play this common audio format.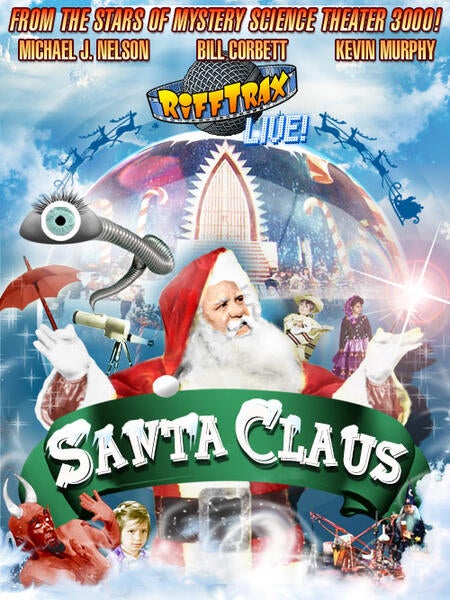 Riffed By