Leadfoot
Please choose a format above.
Driving safety films tend to carry the same basic message: DON'T DRIVE, DON'T YOU DARE DRIVE, WHY WOULD YOU EVER THINK OF DOING SOMETHING AS EVIL AND TERRIFYING AS DRIVING??? But few have the car stunt budget and darkness of Leadfoot!
Meet Tom. You'll know his name is Tom because he wears a t-shirt that says "Tom." Tom is a blonde 1980s teen living in the 1980s world of 1980s Los Angeles. Tom recently got himself a car for $400, so you know it's safe! Adults and a concerned policeman talk to Tom about driving safety, so naturally he heeds all their warnings and nothing bad or tragic happens at all…
*SCREEEEEEEEEEEEECH SLAM BLOOD LIFELONG REGRETS* Yep, Tom's a Leadfoot all right, and wait 'til you see who pays the price for his mad desire to operate an automobile! To find out, just grab an open container and go joyriding with Mike, Kevin, Bill, and Leadfoot!
Digital HD Video file formats
High (TV) 480p (258.44 MB)
HD Medium 720p (259.05 MB)
All digital products you purchase from RiffTrax.com are DRM-free, can be played across a large variety of devices, and are yours to keep ... forever! Even if you have a hard drive meltdown, you can always log back into the site and re-download all of your previous purchases.
For our Download and Stream products, you can stream the product to your computer or to your TV via Chromecast, or download to a device that can play the MP4 file format. For more information on our video formats, please see this KB article.
Just the Jokes are simply MP3 files which are DRM free and can be enjoyed on any device that can play this common audio format.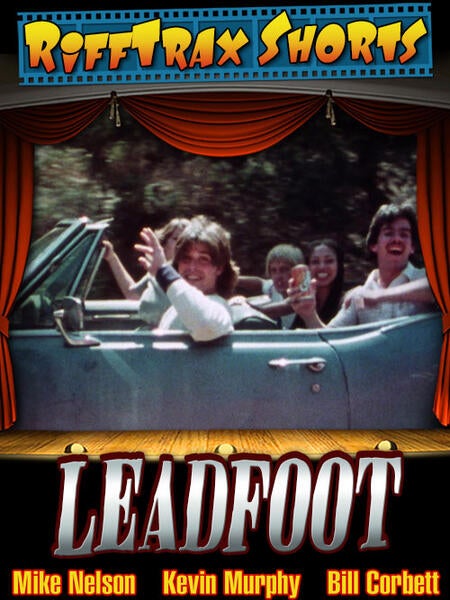 Riffed By