Kittens: Birth and Growth
Please choose a format above.
 Cats have a come a long way lately.  They "hung in there", indeed, on the wall posters of America's cubicles.  And now they are widely acknowledged as the foundation of the entire internet, and thus all modern culture.  Remove the cats, and you're left with nothing.  If not for the existence of confused-cat-dressed-like-Napoleon videos, people would have to send each other links to articles about inconsequential matters like foreign politics, science, or even discuss and examine their own feelings.  In a word: ew.
But little is known about where cats come from.  Are they advanced alien beings, here to exploit our obvious delight at seeing them barf on our stuff?  In exchange for pointedly ignoring us, they are given food, shelter, and an open-air toilet right in our living rooms.  Cats form emotional bonds with humans so strong that they will wait 5, maybe even 10 minutes, before nibbling on the ear of a beloved owner after she has choked to death on a heart-shaped box of chocolates she bought for herself.  What is the origin of these marvelous, sophisticated creatures?
Kittens: Birth & Growth answers this important question, and teaches kids valuable lessons about getting excited for, and then immediately neglecting, adorable new pets.  Watch and learn now, because you can rest assured the cats are watching and learning everything about us.  
Mike, Kevin, & Bill can has kitten short nowz?
Digital Video file formats
High Quality (MPEG-2) (321.99 MB)
Commentary (mp3) (7.55 MB)
Source audio (mp3) (9.68 MB)
All digital products you purchase from RiffTrax.com are DRM-free, can be played across a large variety of devices, and are yours to keep ... forever! Even if you have a hard drive meltdown, you can always log back into the site and re-download all of your previous purchases.
For our Download and Stream products, you can stream the product to your computer or to your TV via Chromecast, or download to a device that can play the MP4 file format. For more information on our video formats, please see this KB article.
Just the Jokes are simply MP3 files which are DRM free and can be enjoyed on any device that can play this common audio format.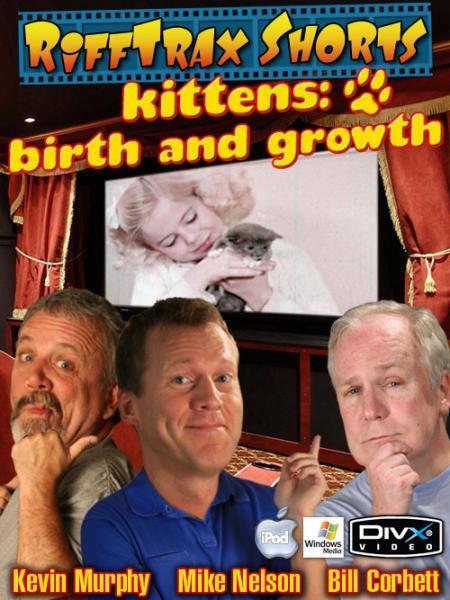 Riffed By