Gifts from the Air
Please choose a format above.
It's the holidays, and you know what that means - time for weird old cartoons!
And Gifts from the Air checks all the standard "weird old holiday cartoon" boxes:
It's got a poor orphan boy staring at toys in a window.
It's got those toys coming to life in terrifying bounce-up-and-down fashion.
It's got a cat being turned into an electric power source to run a bubble tree.
It's got Santa coming into a house through a radio to dump a bunch of toys in a stove.
Okay, those last two might not be standard, in this or any universe. But that's the magic of Gifts from the Air, it reminds you of Christmas without bearing any actual resemblance to any Christmas anyone has ever experienced.
Riffs from the air on Gifts from the Air, with Mike, Kevin, and Bill!
Digital HD Video file formats
Legacy devices (31.24 MB)
All digital products you purchase from RiffTrax.com are DRM-free, can be played across a large variety of devices, and are yours to keep ... forever! Even if you have a hard drive meltdown, you can always log back into the site and re-download all of your previous purchases.
For our Download and Stream products, you can stream the product to your computer or to your TV via Chromecast, or download to a device that can play the MP4 file format. For more information on our video formats, please see this KB article.
Just the Jokes are simply MP3 files which are DRM free and can be enjoyed on any device that can play this common audio format.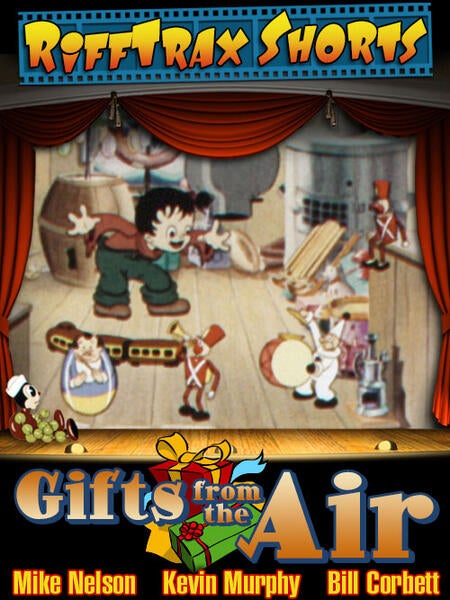 Riffed By