Flying Stewardess
Please choose a format above.
Flying Stewardess takes us for an airborne jaunt through the wild blue yonder. Hop on board a spacious plane, where you'll be treated like a king. Enjoy a delicious steak dinner, served to you by a smiling stewardess. After that, treat yourself to a complimentary cocktail before retiring to your own bed in the sleeping cabin. You'll arrive at your destination refreshed and relaxed. 
 
Yes, Flying Stewardess is one of the most chilling science fiction shorts we've ever seen. Set in the bizarro realm known as "The 1940s", it is not—as you may have guessed—a tale of a Stewardess who gains the power of flight after a freak tray-table accident. It is actually a biting satire of the airline industry as a whole. (WARNING: Satirizing the airline industry may not be a wise idea. A sharp uptick in sitting next to shrieking babies, Bluetooth headset guys and people requiring multiple seat belt extenders may occur as a result.) 
 
Mike, Kevin and Bill were all chastised repeatedly by their stewardess for pointing out that their seats did not properly recline during the recording of this short.
Digital Video file formats
High Quality (MPEG-2) (331.41 MB)
All digital products you purchase from RiffTrax.com are DRM-free, can be played across a large variety of devices, and are yours to keep ... forever! Even if you have a hard drive meltdown, you can always log back into the site and re-download all of your previous purchases.
For our Download and Stream products, you can stream the product to your computer or to your TV via Chromecast, or download to a device that can play the MP4 file format. For more information on our video formats, please see this KB article.
Just the Jokes are simply MP3 files which are DRM free and can be enjoyed on any device that can play this common audio format.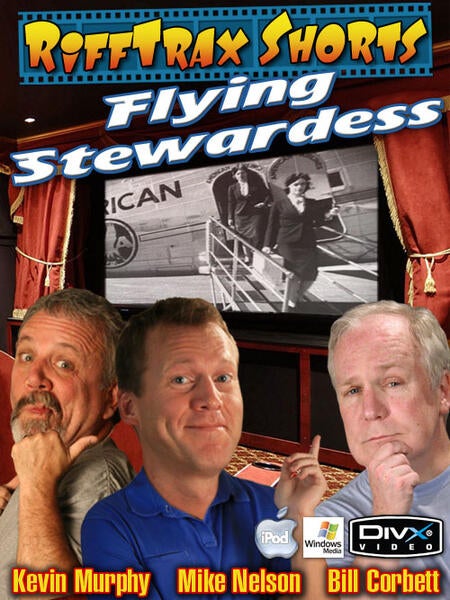 Riffed By