Courtesy Counts a Lot
Please choose a format above.
Some people would say that good old-fashioned common courtesy is dead in modern times. And we here at RiffTrax think those ugly jerks should keep their crusty mouths closed if they know what's good for 'em! Oh, we're kidding of course, but if you think we'd hold the elevator for you as you approached rather than hurriedly push the "Close Door" button while avoiding eye contact, you've got another thing coming.
So maybe we've got some learning to do when it comes to courtesy (shocking, after the powerful breakfast-based examples of recent short Courtesy: A Good Eggsample) -- good thing we've got Courtesy Counts A Lot to set us straight! And what could be more instructive than animated vignettes about a young nerd getting his hot air balloon in a palm tree, only to be assaulted by a giraffe...or a ghostly clown crossing paths with an angry armadillo...Hm. Well, at least there's a hideous 2-line song playing under the entire film, sung by a chorus of children who sound so nervous you have to wonder if they've recently spent time on a beach with Santa Claus and a certain dessert-based Bunny. Yes, Courtesy Counts A Lot -- and apparently causes schizophrenia!
After learning the lessons of Courtesy Counts A Lot, Mike, Kevin, and Bill were trapped in the room for 3 hours attempting to let each other be the first out the door. The final result: bloodshed.
Digital Video file formats
Legacy devices (41.83 MB)
Commentary (mp3) (7.3 MB)
Source audio (mp3) (9.36 MB)
All digital products you purchase from RiffTrax.com are DRM-free, can be played across a large variety of devices, and are yours to keep ... forever! Even if you have a hard drive meltdown, you can always log back into the site and re-download all of your previous purchases.
For our Download and Stream products, you can stream the product to your computer or to your TV via Chromecast, or download to a device that can play the MP4 file format. For more information on our video formats, please see this KB article.
Just the Jokes are simply MP3 files which are DRM free and can be enjoyed on any device that can play this common audio format.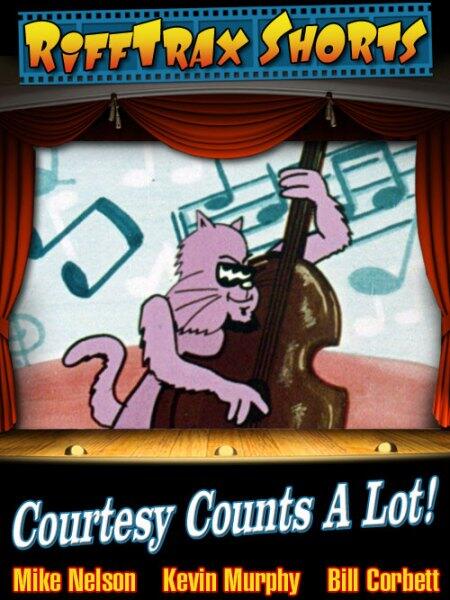 Riffed By