Beginning Responsibility: A Lunchroom Goes Bananas
Please choose a format above.
There are a few certainties in life: death, taxes, and that we will never stop finding shorts from the multi-decade Beginning Responsibility series made by Coronet.
A Lunchroom Goes Bananas is from their 70s era, which usually means lots of confused kids with shaggy haircuts and some kind of disturbing puppetry. And this one doesn't disappoint!
It's got claymation food that goes on strike, student investigative reporters, and a boy with an unexplained rat on his shoulder. What it doesn't have is a clear point or reason for existing, another classic hallmark of any good Beginning Responsibility short.
Learn some lessons from a talking eggplant, get yourself a steaming bowl of banana soup, and join Mike, Kevin and Bill in the cafeteria for Beginning Responsibility: A Lunchroom Goes Bananas!
Written by: Mike Nelson, Bill Corbett, Conor Lastowka, and Sean Thomason
Digital HD Video file formats
Legacy devices (48.32 MB)
All digital products you purchase from RiffTrax.com are DRM-free, can be played across a large variety of devices, and are yours to keep ... forever! Even if you have a hard drive meltdown, you can always log back into the site and re-download all of your previous purchases.
For our Download and Stream products, you can stream the product to your computer or to your TV via Chromecast, or download to a device that can play the MP4 file format. For more information on our video formats, please see this KB article.
Just the Jokes are simply MP3 files which are DRM free and can be enjoyed on any device that can play this common audio format.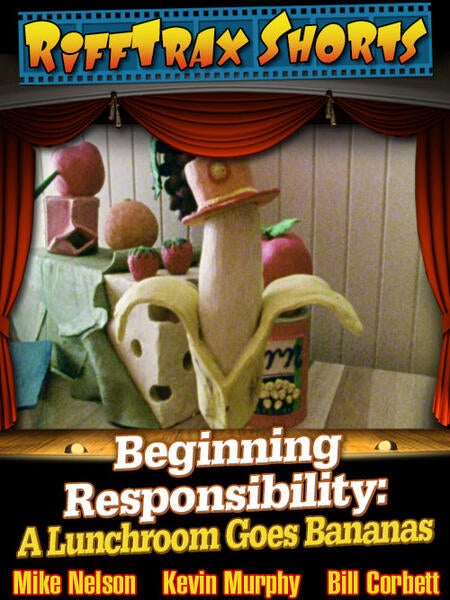 Riffed By