Animal Antics
Please choose a format above.
Oh, animals. Whether it's a kitten and a piglet becoming friends, a cute hamster stuffing Cheez-Its into his cheeks, or legions of plague rats devastating the population of medieval Europe, those wacky critters are always up to somethin'!
Animal Antics takes a look at the day in the life of a cute little bunny the old-fashioned way: through the perspective of a half-delirious newsreel narrator, babbling words as quickly as he can in a vain attempt to voice every animal character while still providing a coherent story. Also, it's not so much a real "day in the life" as it is "a series of bizarre situations the film forces the bunny to deal with." The narrator also decides that the bunny -- again, a bunny, and thus a child -- is aggressively flirting with every animal that crosses his path. And not just animals, he's into dolls, too! It all culminates in a dollhouse date that'll have animal fans of all ages asking "why, why is this happening?"
Let's get weird with nature. Join Mike, Kevin, and Bill for Animal Antics!
Digital Video file formats
Legacy devices (35.23 MB)
All digital products you purchase from RiffTrax.com are DRM-free, can be played across a large variety of devices, and are yours to keep ... forever! Even if you have a hard drive meltdown, you can always log back into the site and re-download all of your previous purchases.
For our Download and Stream products, you can stream the product to your computer or to your TV via Chromecast, or download to a device that can play the MP4 file format. For more information on our video formats, please see this KB article.
Just the Jokes are simply MP3 files which are DRM free and can be enjoyed on any device that can play this common audio format.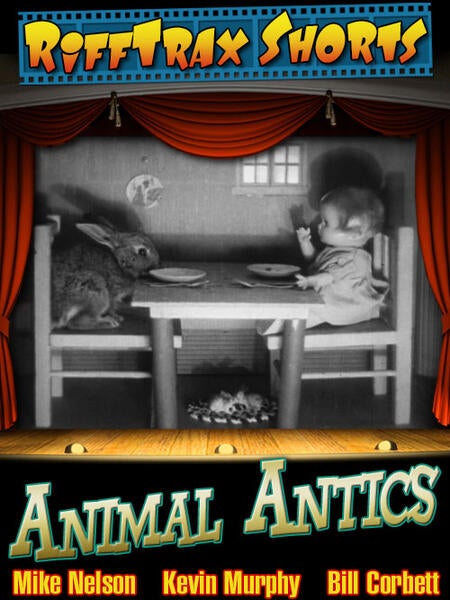 Riffed By