An Airplane Trip
Please choose a format above.
It's the prequel you didn't know you needed!
See, a couple years back we riffed An Airplane Trip By Jet. It was packed with great 1950s travel information, but some astute viewers couldn't help feeling they'd been dropped into the middle of a larger story. Like reading Go Set A Watchman before To Kill A Mockingbird, or watching Retro Puppet Master before regular Puppet Master. But never fear, we found the original, the one that started it all, and life should make sense again thanks to An Airplane Trip!
What's the difference between An Airplane Trip and An Airplane Trip by Jet? Well, mostly the jet. Cheerful children are ditched at the airport by grandparents who are more than happy to see them go. Glamorous, friendly flight attendants and glamorous, friendly airline staffers help them through every step of their journey. The whole 1950s flying process is so pleasant that this feels more like science fiction than any science fiction films made in the 1950s.
It's fun to imagine a film crew putting the finishing touches on An Airplane Trip just in time for the boss to walk in and say "Bad news gang, they've got jets on airplanes now, we gotta remake the whole picture." Their hard work is our gain - take another trip down airplane lane and join Mike, Kevin and Bill for An Airplane Trip!
Written by Mike Nelson, Conor Lastowka, and Sean Thomason
Digital HD Video file formats
Legacy devices (46.55 MB)
High (TV) 480p (210.22 MB)
HD Medium 720p (211.66 MB)
All digital products you purchase from RiffTrax.com are DRM-free, can be played across a large variety of devices, and are yours to keep ... forever! Even if you have a hard drive meltdown, you can always log back into the site and re-download all of your previous purchases.
For our Download and Stream products, you can stream the product to your computer or to your TV via Chromecast, or download to a device that can play the MP4 file format. For more information on our video formats, please see this KB article.
Just the Jokes are simply MP3 files which are DRM free and can be enjoyed on any device that can play this common audio format.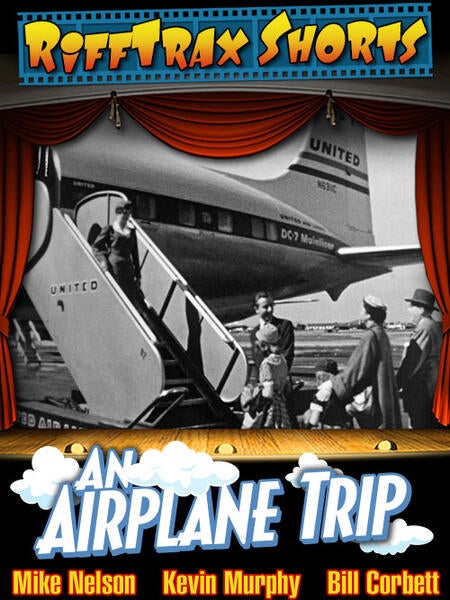 Riffed By