What Will Bernard Do
Please choose a format above.
Bernard is struggling in math class mostly because his teacher will not stop calling on him.
After multiple failed attempts of trying nothing, Bernard turns to his friend David to teach him basic math. Wouldn't you know it - his grade goes up! The victory is short-lived, however, when his math teacher demands no outside assistance for the next assignment.
Bernard comes to a moral crossroads in trying to improve his grade. What Will Bernard Do? Well, we won't actually find out 'till the next installment - but watch the epic classroom journey with Bridget and Mary Jo!
NOTE: This short was also part of our 2019 Kickstarter Rewards package.
Digital HD Video file formats
Legacy devices (24.04 MB)
All digital products you purchase from RiffTrax.com are DRM-free, can be played across a large variety of devices, and are yours to keep ... forever! Even if you have a hard drive meltdown, you can always log back into the site and re-download all of your previous purchases.
For our Download and Stream products, you can stream the product to your computer or to your TV via Chromecast, or download to a device that can play the MP4 file format. For more information on our video formats, please see this KB article.
Just the Jokes are simply MP3 files which are DRM free and can be enjoyed on any device that can play this common audio format.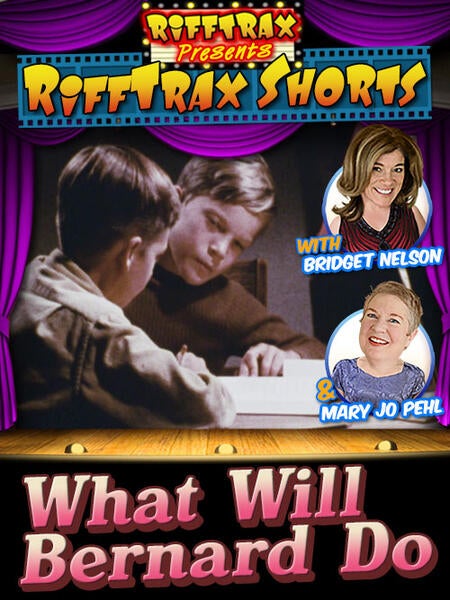 Riffed By