Skippy and the Three Rs
Please choose a format above.
This is the story of Skippy Gordon, who, in the fall 1953, did unknowingly fall prey to the influence of Miss Temple and her nefarious cooperation in a federally planned routine which would envelop him for one half of his waking hours, and which would continue for the next ten, fifteen, or twenty years of his life.
Suffer with Skippy as he endures the joy-ending trauma of realizing that all his toys and nice mom are at home while he's stuck in a stinky room with twenty paste-eaters painting endless pictures of his house with thick, unruly paintbrushes. 
Feel, with him, the betrayal as his love and desire for a big-boy bike is twisted by the duplicitous Miss Temple into a sick plan to teach him to read, write, and do arithmetic.
Finally, an exposé that has the courage to shine a light on first grade as it truly is.
Written by: Bridget Nelson and Mary Jo Pehl
Digital HD Video file formats
Legacy devices (125.35 MB)
High (TV) 480p (566.44 MB)
HD Medium 720p (570.2 MB)
All digital products you purchase from RiffTrax.com are DRM-free, can be played across a large variety of devices, and are yours to keep ... forever! Even if you have a hard drive meltdown, you can always log back into the site and re-download all of your previous purchases.
For our Download and Stream products, you can stream the product to your computer or to your TV via Chromecast, or download to a device that can play the MP4 file format. For more information on our video formats, please see this KB article.
Just the Jokes are simply MP3 files which are DRM free and can be enjoyed on any device that can play this common audio format.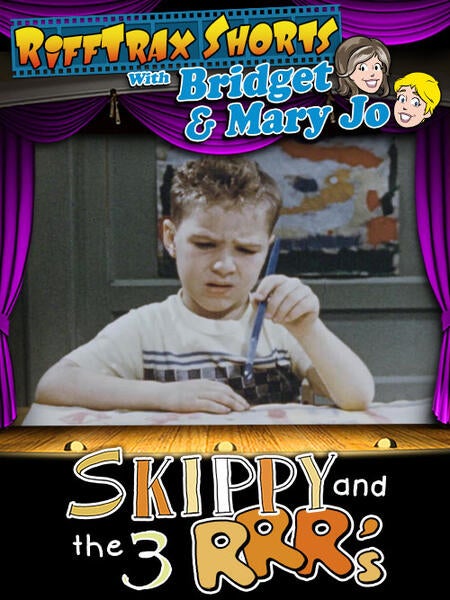 Riffed By