Life in the Suburbs (Bridget Nelson and Mary Jo Pehl)
Please choose a format above.
According to research, everyday more and more Americans are leaving our big cities and moving to the suburbs.
Entire apartment buildings empty overnight! Schools close from lack of students! Everyone wants a lawn and they want it now! You, like many people, may have questions about this phenomenon. Who exactly are these people? Are they people with particular interests and particular goals? And most importantly do they know HOW to live in the suburbs?
Well, these are the people Redbook magazine calls YOUNG ADULTS. And these Young Adults are going to learn from Redbook magazine how to correctly live in the "AGE OF THE PUSH BUTTON!" With Redbook as your guide, learn the importance of, malls, cars, malls, appliances, malls, easy living and malls.
Join MST3K favorites Mary Jo and Bridget as they Riff you through a "Happy-Go-Spending-Whirl" of 1957 consumerism, lust and greed.
BUY IT BUY IT BUY IT (<-- subliminal)
NEW! Get Bridget and Mary Jo's second riffed short A Word to the Wives here!
Digital Video file formats
Legacy devices (79.13 MB)
All digital products you purchase from RiffTrax.com are DRM-free, can be played across a large variety of devices, and are yours to keep ... forever! Even if you have a hard drive meltdown, you can always log back into the site and re-download all of your previous purchases.
For our Download and Stream products, you can stream the product to your computer or to your TV via Chromecast, or download to a device that can play the MP4 file format. For more information on our video formats, please see this KB article.
Just the Jokes are simply MP3 files which are DRM free and can be enjoyed on any device that can play this common audio format.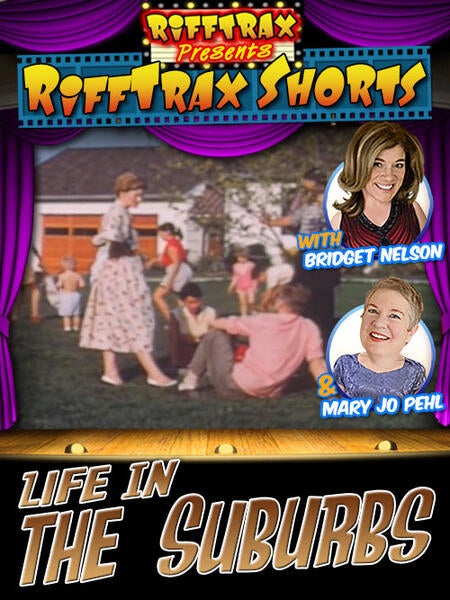 Riffed By