How Animals Help Us
Please choose a format above.
Not sure who made this short film claiming that lower order animals are actually useful to us humans, or why - but they are! Mostly in sandwiches!
Little Jimmy is on a quest to discover how every animal on grandfather's farm fits into their own little capitalist artifice. Eat your heart out, George Orwell! Cows are there to provide food. Chickens? Also food. Sheep? Clothing and food. Mink? Just clothing! Good for those lucky, lucky minks! Will more animals and their vocations be discussed at arduous length? You'll have to tune in to find out.
Join Bridget and Mary Jo as they look for a job down on the farm to learn How Animals Help Us!
Digital Video file formats
Legacy devices (44.11 MB)
HD Medium 720p (203.19 MB)
All digital products you purchase from RiffTrax.com are DRM-free, can be played across a large variety of devices, and are yours to keep ... forever! Even if you have a hard drive meltdown, you can always log back into the site and re-download all of your previous purchases.
For our Download and Stream products, you can stream the product to your computer or to your TV via Chromecast, or download to a device that can play the MP4 file format. For more information on our video formats, please see this KB article.
Just the Jokes are simply MP3 files which are DRM free and can be enjoyed on any device that can play this common audio format.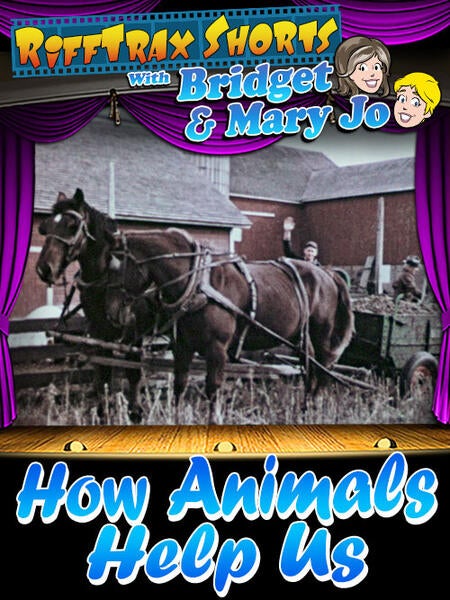 Riffed By