Total Riff Off Episode 6: Brazilian Bigfoot
Please choose a format above.
Richard Terry is back, and the soup is thicker and browner than ever! Shrugging off the embarrassments of the Demon Bat turning out to be a Regular Bat and the fearsome Naga river monster turning out to be just some ripples on the water caused by his cameraman taking a leak, Richard unbuttons half his shirt buttons, flips his camera to night vision mode, and heads to Brazil!
This time he's in search of the Mapinguari, aka the Brazilian Bigfoot, aka, Probably A Slightly Larger Than Average Coyote or Something. It's been terrorizing villagers. They will not leave their huts for fear it might thrust a camera in their face and demand they sign a release form—Oh wait, that's just Richard. The Mapinguari on the other hand is constantly pretending he's in danger and making perfectly normal situations seem fraught with peril—Sorry, sorry, that's Richard again too.
Along the road to eventual disappointment and inevitable humiliation, Richard will scoot along a log, drug an anteater, and get drenched by a waterfall. It may be his most successful monster hunt yet. Join Mike, Kevin, and Bill for another baffling snipe hunt with our favorite intrepid explorer in Total Riff Off Episode 6: Brazilian Bigfoot!
Digital Video file formats
Legacy devices (185.01 MB)
Download to Burn (2.73 GB)
Digital HD Video file formats
Legacy devices (185.01 MB)
Download to Burn (2.73 GB)
All digital products you purchase from RiffTrax.com are DRM-free, can be played across a large variety of devices, and are yours to keep ... forever! Even if you have a hard drive meltdown, you can always log back into the site and re-download all of your previous purchases.
For our Download and Stream products, you can stream the product to your computer or to your TV via Chromecast, or download to a device that can play the MP4 file format. For more information on our video formats, please see this KB article.
Just the Jokes are simply MP3 files which are DRM free and can be enjoyed on any device that can play this common audio format.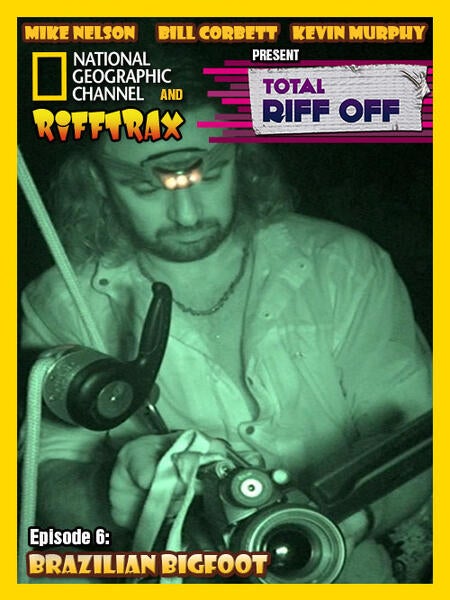 Riffed By