MST3K: Werewolf
Get this MST3K Episode!
Please choose a format above.
An archaeologist on a dig somehow manages to trip and cut himself on a werewolf skeleton (pronounced VAIR-vilf) and so, as the legend about tripping and cutting oneself on a werewolf skeleton goes, he himself becomes a werewolf. A werewolf wearing blue jeans who looks more like an undernourished bear, that is.
While in human form he falls in love with Natalie, the dumbest person who has ever or will ever live. Can their love survive his lycanthropy?!
Come for the really bad werewolf -- stay for the terrible and various pronunciations of the word "werewolf".
Digital Video file formats
Legacy devices (373.58 MB)
Burnable DVD Image (3.46 GB)
All files you purchase from RiffTrax.com are DRM-free, can be played across a large variety of devices, and are yours to keep forever! Even if you have a hard drive meltdown, you can always log back into the site and re-download all of your previous purchases.
For our Download and Stream products, you can stream the product to your computer or to your TV via Chromecast, or download to a device that can play the MP4 file format. For more information on our video formats, please see this KB article.
Just the Jokes are simply MP3 files which are DRM free and can be enjoyed on any device that can play this common audio format.
Join us in the comments, won't us?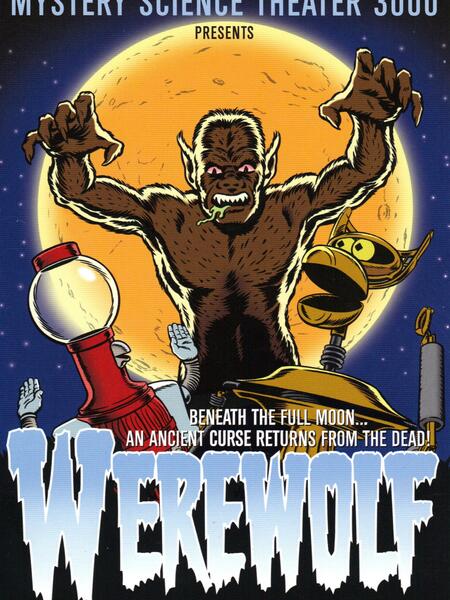 Release Date
December 6, 2015
Genre
In collection