MST3K: Time of the Apes
Get this MST3K Episode!
Please choose a format above.
Sorry, Dr. Zaius! Leave your Statue of Liberty at home, it's the Time of the Apes!
A flash freezing accident has sent an unexpecting family to the not-too-distant future. Apes rule the planet for some reason and, for some reason, they're trying to execute all remaining humans. Honestly, this is less of a film and more a series of scenes with the same characters; so a lot of things happen for little to no reason. An ape shows up in a nice cadillac about halfway through. Good to know the auto industry survived the extinction of humanity.
All this plus extraordinary baby growth formulas, re-enactments of landmark trials, and Saaaaandy Frank! Saaaaandy Frank!
Join Joel, Servo and Crow as they prepare to set back their clocks to the Time Of The Apes!
Digital Video file formats
Legacy devices (405.91 MB)
Burnable DVD Image (3.92 GB)
All files you purchase from RiffTrax.com are DRM-free, can be played across a large variety of devices, and are yours to keep forever! Even if you have a hard drive meltdown, you can always log back into the site and re-download all of your previous purchases.
For our Download and Stream products, you can stream the product to your computer or to your TV via Chromecast, or download to a device that can play the MP4 file format. For more information on our video formats, please see this KB article.
Just the Jokes are simply MP3 files which are DRM free and can be enjoyed on any device that can play this common audio format.
Join us in the comments, won't us?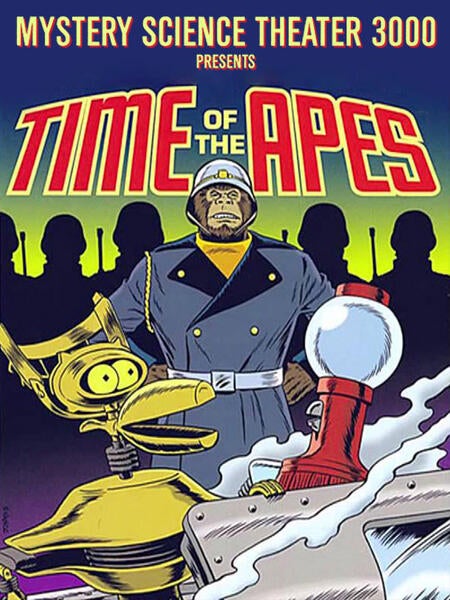 Release Date
November 6, 2017
Genre
In collection