RiffTrax Live: BIRDEMIC
Please choose a format above.
RiffTrax Live: Birdemic is now available as a VOD! Relive what critics are calling "Definitely one of the top two RiffTrax Live events of 2012!"
If you loved the live show the first time you saw it or missed it because you were too busy hanging out, hanging out with your family, now here is your chance to own it! There will be slrpnls, bark beetles and animals such as seals! Plus, the show kicks off with everyone's favorite lovable loser, Norman, in the short Norman Checks In.
Birdemic is one of our favorite bad movies of all time, and there's no better way to watch it than RiffTrax Live. So grab a coat hanger, fire up your solar powered TV and for the love of god fully vest your stock options! Birdemic!
BIRDEMIC is the spiritual sequel to Julie and Jack, now available! Get 25% off RiffTrax Live: Birdemic when you buy both!
Digital Video file formats
Legacy devices (428.77 MB)
Download to Burn (4.35 GB)
Digital HD Video file formats
Legacy devices (428.77 MB)
Download to Burn (4.35 GB)
All digital products you purchase from RiffTrax.com are DRM-free, can be played across a large variety of devices, and are yours to keep ... forever! Even if you have a hard drive meltdown, you can always log back into the site and re-download all of your previous purchases.
For our Download and Stream products, you can stream the product to your computer or to your TV via Chromecast, or download to a device that can play the MP4 file format. For more information on our video formats, please see this KB article.
Just the Jokes are simply MP3 files which are DRM free and can be enjoyed on any device that can play this common audio format.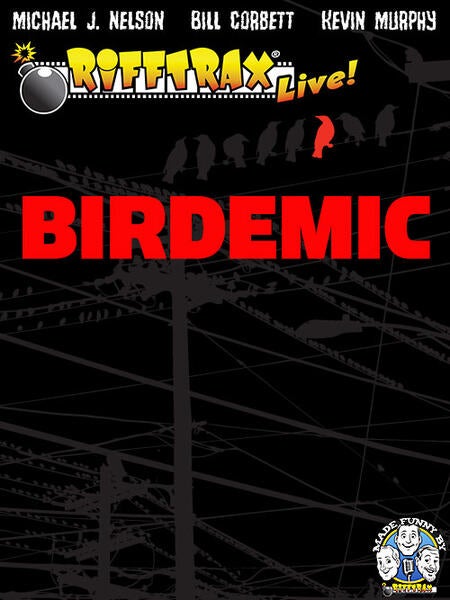 Riffed By