Keep Off The Grass
Please choose a format above.
Do you think it might be "groovy" or possibly even "outta sight" to try those funny cigarettes your friends have been smoking?
Have you been tempted to "turn on" with the "real heads" down at the pipe shop? Well, you can get all the completely unbiased facts on that crazy herb from the 1970 Santa Monica Police Department in our new short, Keep Off The Grass!
Tom is your typical 35 year old teenager, except for one thing… he's started smoking grass! When his parents find his stash, they flip their lids. Tom's dad gives him a stern lecture on finding out the facts about marijuana, all while smoking a cig and downing a tumbler of brown booze.
From there, Tom goes on a journey through the weed culture of 1970. He hits a pot party, meets a poster artist named Waco, and Bunny, Waco's old lady. Bunny's little brother gets busted for a dope, and then it's off to the police station. It's the richest cinematic universe you'll ever find in an anti-drug short.
As Tom learns the pros and cons of getting high, the police keep showing up, and whaddaya know, they're always level-headed, helpful and cool! Meanwhile the potheads are selfish greedy jerks out to ruin Tom's life. Maybe the police were the real "hep cats" all along? Like we said, it's completely unbiased!
It's like Reefer Madness, if Reefer Madness put on a hippie wig and peace sign necklace and said "how do you do, fellow kids?" Stay safe out there, join Mike Kevin and Bill for Keep Off The Grass!
Written by Mike Nelson and Sean Thomason
Digital HD Video file formats
Legacy devices (67.85 MB)
All digital products you purchase from RiffTrax.com are DRM-free, can be played across a large variety of devices, and are yours to keep ... forever! Even if you have a hard drive meltdown, you can always log back into the site and re-download all of your previous purchases.
For our Download and Stream products, you can stream the product to your computer or to your TV via Chromecast, or download to a device that can play the MP4 file format. For more information on our video formats, please see this KB article.
Just the Jokes are simply MP3 files which are DRM free and can be enjoyed on any device that can play this common audio format.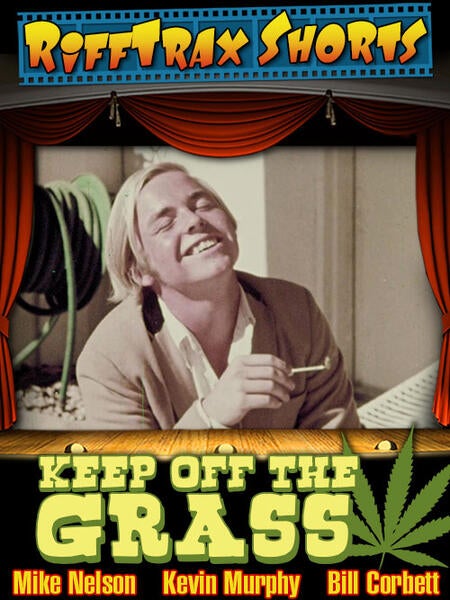 Riffed By