Your Chance To Live
Please choose a format above.
What happens when a public television studio realizes that it has to spend $2,000 of government grant money before Wednesday in order to qualify for full funding for the next fiscal year?  You get Your Chance to Live: Technological Failures!  Obviously thrown together in a matter of hours, Your Chance to Live rails against modern man's dependence on technology with the vibrant coherency of a raving street corner derelict.  This may have something to do with the fact that the producers hired an actual street corner derelict to do the raving, or as they refer to it, the "narration."  Among the pearls of wisdom he imparts along the way? "Without electricity, there could be no electrical fires."  The point is emphasized by showing stock footage of "Pioneers" baling hay.
Surely, the producers of this film were on a higher plane of consciousness, or maybe just really wanted to get off work in time to catch the tail end of happy hour.  The whole thing makes for an experience that is as surreal as it is hilarious.  Mike, Kevin and Bill seize Their Chance to Riff!
Digital Video file formats
High Quality (MPEG-2) (361.62 MB)
Source Audio (mp3) (24.06 MB)
All digital products you purchase from RiffTrax.com are DRM-free, can be played across a large variety of devices, and are yours to keep ... forever! Even if you have a hard drive meltdown, you can always log back into the site and re-download all of your previous purchases.
For our Download and Stream products, you can stream the product to your computer or to your TV via Chromecast, or download to a device that can play the MP4 file format. For more information on our video formats, please see this KB article.
Just the Jokes are simply MP3 files which are DRM free and can be enjoyed on any device that can play this common audio format.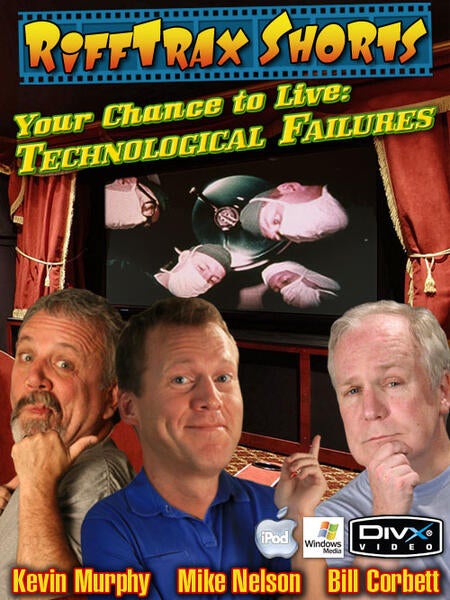 Riffed By