Wide World of Shorts
Shorts, shorts, and more shorts. Not those shorts -- we're talking about the short films your teachers used to make you watch on those days when they hit it too hard the night before and neglected to prepare anything for class. Only this time Mike, Kevin and Bill from Mystery Science Theater 3000® and Rifftrax.com® are there to exact revenge with their signature brand of hilarious running commentary.
Yes, from the authoritarian 40's right up through the do-whatever-you-want 70's they were there, lecturing, hectoring, and always, always yelling at you, insisting you practice proper hygiene. Includes ten complete shorts, including a loving, if paranoid, tribute to beer, the strange and mock-able antics of the Self-Conscious Guy, and a surprisingly balanced look at heroin use in The Terrible Truth. Wheel in the A/V cart, close the shades, turn off the lights and laugh along with master riffers Mike, Kevin and Bill. It's like spending an evening with your funniest friends!
This DVD contains the following shorts:
Snap Out of It!
Alcohol Trigger Films
Carnivorous Plants
Aqua Frolics
Why Vandalism?
Self-Conscious Guy
As We Like It
Toward Emotional Maturity
The Terrible Truth
Good Eating Habits
All digital products you purchase from RiffTrax.com are DRM-free, can be played across a large variety of devices, and are yours to keep ... forever! Even if you have a hard drive meltdown, you can always log back into the site and re-download all of your previous purchases.
For our Download and Stream products, you can stream the product to your computer or to your TV via Chromecast, or download to a device that can play the MP4 file format. For more information on our video formats, please see this KB article.
Just the Jokes are simply MP3 files which are DRM free and can be enjoyed on any device that can play this common audio format.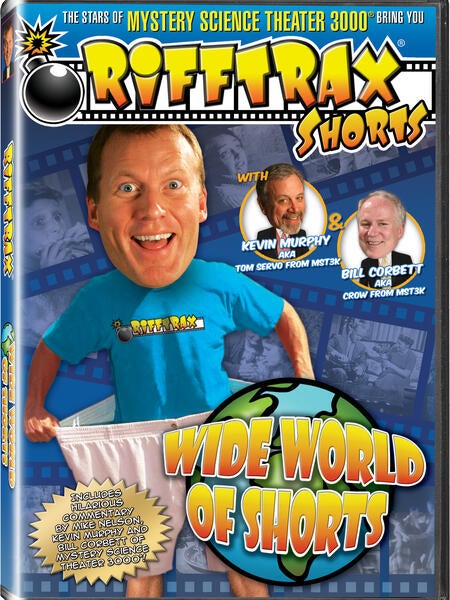 Riffed By