Whatever the Weather
Please choose a format above.
For years, The Weather has been the go-to topic for nervously discussing with your co-workers whenever you end up sharing an elevator with them after you fail to see them pull into the parking lot at the same time as you, leaving you unable to adjust your route on the fly.  "Some weather we're having" you'll say, and they will grunt their assent.  A few seconds later you'll notice that neither of you have pressed the floor button, and you'll lunge for it at the same time, then retract your fingers cautiously, before finally poking it with a vigor that instantly seems inappropriately emphatic.  It would probably be less socially awkward for you to just kill and eat the co-worker right there, but instead, you chat about the weather.  God forbid they end up leaving at the same time as you that afternoon.
Yes, The Weather has been discussed to death. And yet somehow, Whatever the Weather manages to bring a fresh new angle to the topic.  Of course, in order to find a fresh, new angle, they just made up some crazy analogy regarding weather and hats.  You're not really even sure it was intentional until they hamfistedly try to tie it together in the final seconds.  M. Night Shyamalan movies operate under the same principal.
If you're a fan of weather, you probably don't get invited to too many parties, seeing as how that's an extremely boring thing to be a fan of.  So while you're sitting at home, not partying, why not cue up the latest RiffTrax short, Whatever the Weather, with Mike, Kevin and Bill playing armchair meteorologist next to you?  Forecasts call for a 60 percent chance of infectious laughter.  Hang on, I'm being issued a correction.  That should read 60% chance of severe thunderstorms.  Take cover immediately.
Digital Video file formats
High Quality (MPEG-2) (296.7 MB)
Commentary (mp3) (6.8 MB)
Source audio (mp3) (8.7 MB)
All digital products you purchase from RiffTrax.com are DRM-free, can be played across a large variety of devices, and are yours to keep ... forever! Even if you have a hard drive meltdown, you can always log back into the site and re-download all of your previous purchases.
For our Download and Stream products, you can stream the product to your computer or to your TV via Chromecast, or download to a device that can play the MP4 file format. For more information on our video formats, please see this KB article.
Just the Jokes are simply MP3 files which are DRM free and can be enjoyed on any device that can play this common audio format.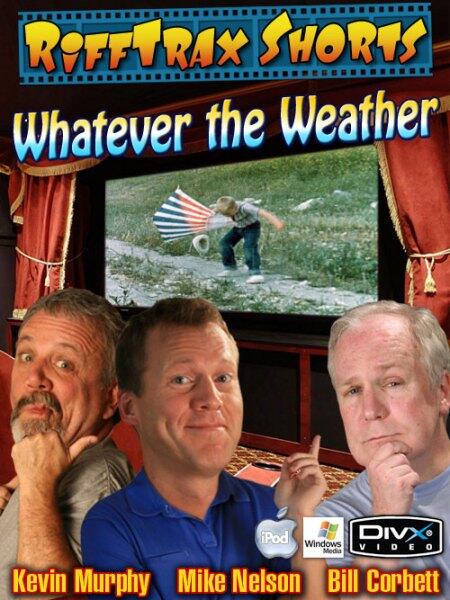 Riffed By