What It Means to Be An American (Part 2)
Please choose a format above.
Many of us were left frustrated when What It Means to Be An American: Part 1 ended without answering the titular question.
In fact, many of you noticed that it did not in fact appear to address the question, or even show the faintest hint that it was aware that it would later be titled What It Means to Be An American. But lest you grow so disgusted with the WIMTBAA series that you decide not to show up to find out how the saga ends (See: The Matrix Reloaded), rest assured that What It Means to Be An American: Part 2 provides adequate* closure** to the series, answering*** all of your questions.****
Mike, Kevin and Bill stand at attention to riff Part 2 of What It Means to Be An American, truly the Godfather***** 2****** of Shorts Sequels.
*incoherent
**rambling
***never touching on
****what it means to be an American
*****Police Academy
******4: Citizens On Patrol
Digital Video file formats
High Quality (MPEG-2) (343.38 MB)
All digital products you purchase from RiffTrax.com are DRM-free, can be played across a large variety of devices, and are yours to keep ... forever! Even if you have a hard drive meltdown, you can always log back into the site and re-download all of your previous purchases.
For our Download and Stream products, you can stream the product to your computer or to your TV via Chromecast, or download to a device that can play the MP4 file format. For more information on our video formats, please see this KB article.
Just the Jokes are simply MP3 files which are DRM free and can be enjoyed on any device that can play this common audio format.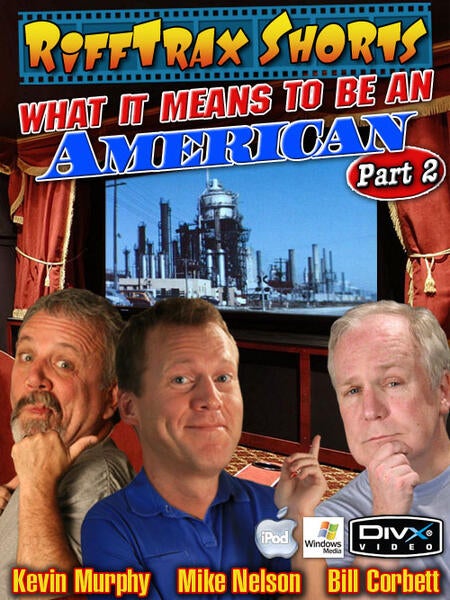 Riffed By