Unto the Least of These
Please choose a format above.
Our latest short takes its name from a famous quote from The Gospel of Matthew.  Or maybe it was from the episode of Eek The Cat, "Eek vs the Flying Saucers."  What's important is that even though our newest short derives its title from one of these two important works, its subject matter, the Attwater's Prairie Chicken, does not appear in either work (we're certain about the Eek the Cat episode, less up to speed on our book of Matthew.)
Yes, at the time the short was made, the Attwater's Prairie Chicken appeared to be Booming it's way towards extinction.  The chickens' famed Booming grounds, where they once Boomed by the hundreds of thousands, had been paved over for a Showbiz Pizza, leaving them Boom-less.  (After repeated viewings of the short, we think Booming refers to some sort of dice game.)
The short details the efforts of a few concerned citizens, with nothing, literally nothing better to do than to save some chickens who it appears were public enemy one of Natural Selection.  Hastily taped cardboard boxes, helicopters mounted with huge Wile E. Coyote inspired nets and, yes, Booming, all figure prominently.
Mike, Kevin and Bill take a break from Booming to riff Unto the Least of These.
Digital Video file formats
High Quality (MPEG-2) (248.97 MB)
Commentary (mp3) (7.95 MB)
Source audio (mp3) (10.26 MB)
All digital products you purchase from RiffTrax.com are DRM-free, can be played across a large variety of devices, and are yours to keep ... forever! Even if you have a hard drive meltdown, you can always log back into the site and re-download all of your previous purchases.
For our Download and Stream products, you can stream the product to your computer or to your TV via Chromecast, or download to a device that can play the MP4 file format. For more information on our video formats, please see this KB article.
Just the Jokes are simply MP3 files which are DRM free and can be enjoyed on any device that can play this common audio format.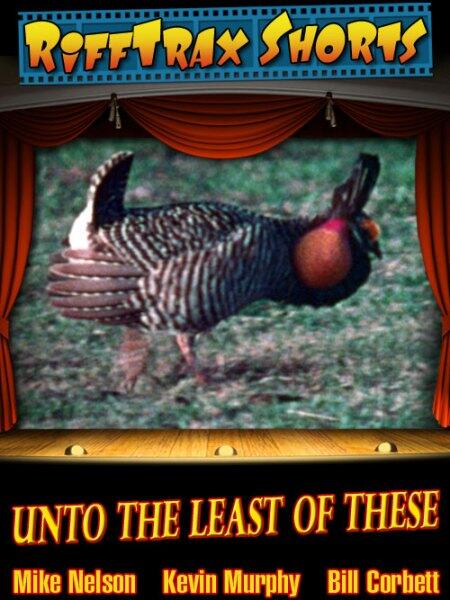 Riffed By