Toyland
Please choose a format above.
Most vintage Christmas shorts fall into one of two categories.
One: a suburban 1950s family with two children eagerly awaiting the arrival of Santa Claus. The other: a demented black and white cartoon that feels like it came from some other terrifying dimension. For the first time ever, Toyland is both!
We start with the classic nuclear family on Christmas, notable for their small dog who sits upright in a chair. Then dad pulls out a projector and screen and forces the family to watch another film, a cartoon of the ancient variety. Complete with creepy Santa, dogs fighting over bones, and anthropomorphized household objects bouncing up and down to music. There's a parade of mediocre toys and some kids who look like Felix the Cat. Yes, Toyland has it all!  
Join the live-action kids watching the weird cartoon and wondering "Is this really all we get for Christmas? Does dad hate us?" He might, but Mike Kevin and Bill don't. All aboard the poorly animated sleigh to Toyland!
Written by Mike Nelson, Conor Lastowka, and Sean Thomason
Digital HD Video file formats
Legacy devices (37.46 MB)
High (TV) 480p (183.39 MB)
HD Medium 720p (183.9 MB)
All digital products you purchase from RiffTrax.com are DRM-free, can be played across a large variety of devices, and are yours to keep ... forever! Even if you have a hard drive meltdown, you can always log back into the site and re-download all of your previous purchases.
For our Download and Stream products, you can stream the product to your computer or to your TV via Chromecast, or download to a device that can play the MP4 file format. For more information on our video formats, please see this KB article.
Just the Jokes are simply MP3 files which are DRM free and can be enjoyed on any device that can play this common audio format.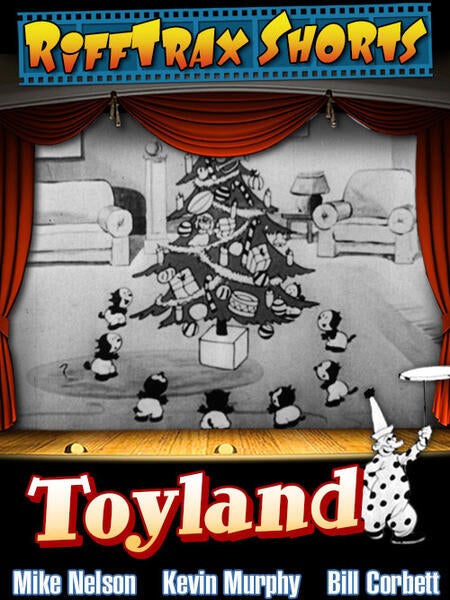 Riffed By