Toward Emotional Maturity
Please choose a format above.
Ground-breaking in its use of "toward" as the first word in its title (can you think of another?), Toward Emotional Maturity also pioneered the techniques of throwing reptiles at people and locking puppies in boxes as a way to demonstrate the deep deficiencies in the human character. Featuring the beautiful but volatile Sally, a girl who loves Hank with all her heart one moment, and the next wants to cut him into thin slabs with her fencing épée and feed him to her dog. Along the path to maturation, Sally must learn to control her emotions, and, in one terrifying scene, put down a violent riot of her fellow students, the likes of which makes a Pistons/Pacers game seem like a Friends' Meeting.
Mike, Bill and Kevin move toward—toward, mind you, not near, or close to, or anywhere within several hundred miles of—but Toward Emotional Maturity.
Digital Video file formats
High Quality (MPEG-2) (317.24 MB)
Source Audio (mp3) (90.23 MB)
All digital products you purchase from RiffTrax.com are DRM-free, can be played across a large variety of devices, and are yours to keep ... forever! Even if you have a hard drive meltdown, you can always log back into the site and re-download all of your previous purchases.
For our Download and Stream products, you can stream the product to your computer or to your TV via Chromecast, or download to a device that can play the MP4 file format. For more information on our video formats, please see this KB article.
Just the Jokes are simply MP3 files which are DRM free and can be enjoyed on any device that can play this common audio format.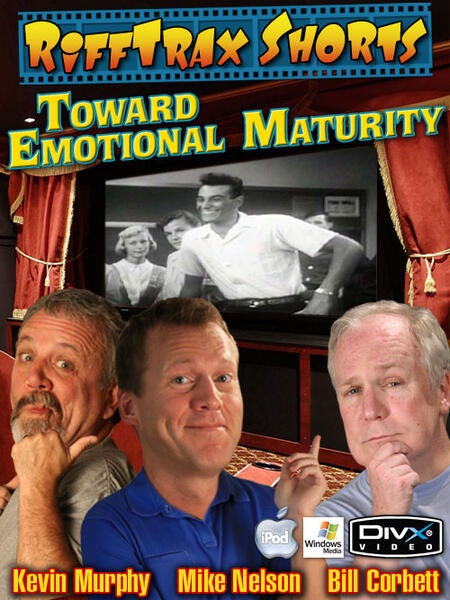 Riffed By