Total Riff Off Episode 3: Guy and a Goose
Please choose a format above.
Meet Dominic. He's in love with a goose. What's that? You'll be right back after you alert the authorities? We completely understand.
So like we were saying, this guy is in love with a goose named Maria. He slowly walks around a park and she follows him. It's riveting. The goose even flies next to him as he rides around on a Vespa. Eventually, Dominic has a severe Vespa accident, possibly because there was an enormous goose flapping around right next to his head while he was trying to drive. Oh, and at some point in time Maria appears in an OK Go music video.
You can't make this sort of stuff up, nor can you flesh it out to an entire hour long show, so we also riffed some alligator wrangling rednecks and a corpse sniffing dog named Bullwinkle. It's a whole gaggle of laughs! Watch it with your loved ones, (who are hopefully not geese.)
Digital Video file formats
Download to Burn (.iso) (2.41 GB)
Digital HD Video file formats
Download to Burn (.iso) (2.41 GB)
All digital products you purchase from RiffTrax.com are DRM-free, can be played across a large variety of devices, and are yours to keep ... forever! Even if you have a hard drive meltdown, you can always log back into the site and re-download all of your previous purchases.
For our Download and Stream products, you can stream the product to your computer or to your TV via Chromecast, or download to a device that can play the MP4 file format. For more information on our video formats, please see this KB article.
Just the Jokes are simply MP3 files which are DRM free and can be enjoyed on any device that can play this common audio format.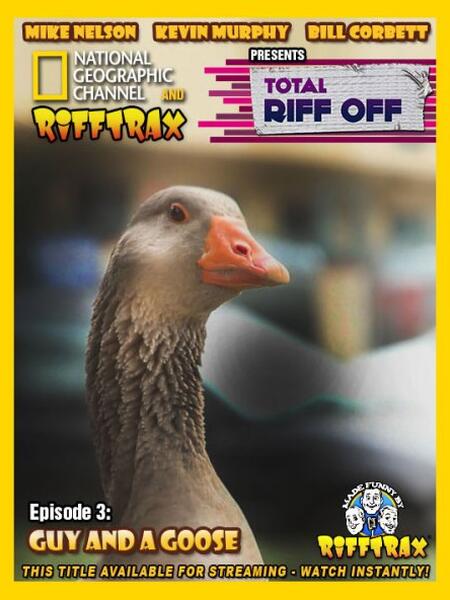 Riffed By