Total Riff Off Episode 2: Demon Bat
Please choose a format above.
A giant demon bat is terrorizing a Mexican village! Well, it's actual fairly normal sized, as far as bats go. It's really no more a demon than any other bat, now that you mention it. And "terrorizing" is being a bit sensational. It bit a cow. Maybe.
But it's good that there's not a giant demon bat, because the guy National Geographic sends in after it is woefully under qualified to handle such a thing. We're frankly uncomfortable letting him near the cow. Richard Terry is a certified Poor Man's Colin Farrell, with luxurious hair and a talent for pretending completely normal everyday scenarios are fraught with peril. He thrusts his camera in the face of irritated Mexicans and demands information about the demon bat that these people have never heard of, since they presumably are spending all their time dealing with real threats, such as the Chupacabra.
This episode was so goofy we ended up riffing the entire thing. Enjoy Total Riff Off: Demon Bat.
Get "Demon Bat" on a shirt!
at our Threadless store!

Click the fearsome bat to purchase.
Digital Video file formats
Legacy devices (173.33 MB)
Download to Burn (.iso) (2.5 GB)
Digital HD Video file formats
Legacy devices (173.33 MB)
Download to Burn (.iso) (2.5 GB)
All digital products you purchase from RiffTrax.com are DRM-free, can be played across a large variety of devices, and are yours to keep ... forever! Even if you have a hard drive meltdown, you can always log back into the site and re-download all of your previous purchases.
For our Download and Stream products, you can stream the product to your computer or to your TV via Chromecast, or download to a device that can play the MP4 file format. For more information on our video formats, please see this KB article.
Just the Jokes are simply MP3 files which are DRM free and can be enjoyed on any device that can play this common audio format.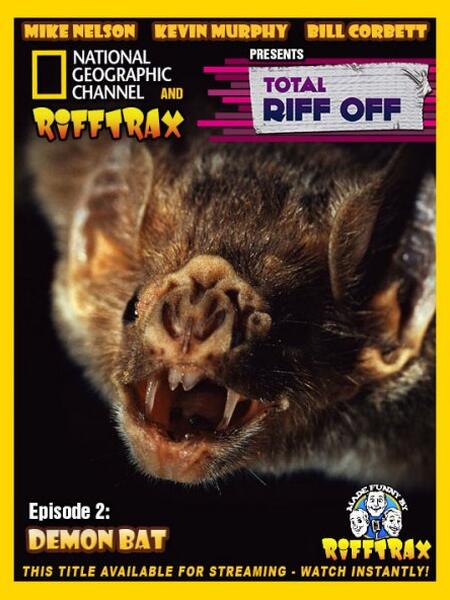 Riffed By