Total Riff Off Episode 1: Killer Shrimp N' Friends
Please choose a format above.
Killer Shrimp 'N Friends - no, it's not a new appetizer platter at your favorite casual dining restaurant, but it IS a smorgasbord of strange creatures, people, and underwear! From a ball-breaking mantis shrimp, to the seemingly-named-by-Wes-Anderson Geographer's Cone Snail, to a dog with a penchant for unmentionables, to the UTTERLY HORRIBLE thing baby koalas put into their mouths, there's plenty of weird stuff in the natural world for us to sink our, er, teeth into.
All that, plus an old man and his seal (strange reboot of the classic Hemingway novel), terrifying dino-birds, and tasmanian devils - not quite as tornado-y as cartoons have led us to believe, much more into "killing things and living inside them."
There's a lot to love in this episode, almost too much really, so get to it and join Mike, Kevin, and Bill (and, seriously, some utterly disgusting koalas) for National Geographic's TOTAL RIFF OFF: Killer Shrimp 'N Friends!
Digital Video file formats
Legacy devices (173.5 MB)
Download to Burn (.iso) (2.49 GB)
Digital HD Video file formats
Legacy devices (173.5 MB)
Download to Burn (.iso) (2.49 GB)
All digital products you purchase from RiffTrax.com are DRM-free, can be played across a large variety of devices, and are yours to keep ... forever! Even if you have a hard drive meltdown, you can always log back into the site and re-download all of your previous purchases.
For our Download and Stream products, you can stream the product to your computer or to your TV via Chromecast, or download to a device that can play the MP4 file format. For more information on our video formats, please see this KB article.
Just the Jokes are simply MP3 files which are DRM free and can be enjoyed on any device that can play this common audio format.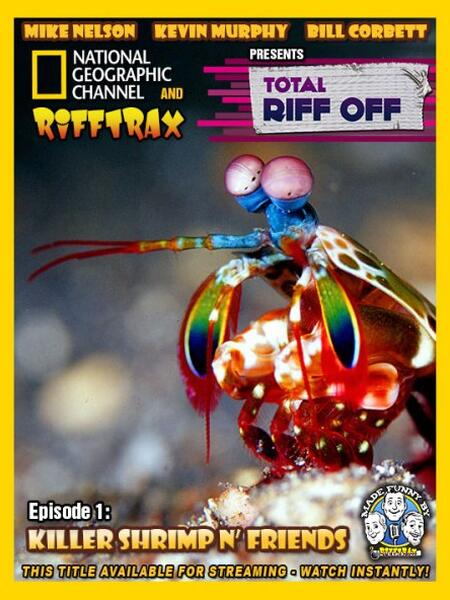 Riffed By