The Talking Car
Please choose a format above.
The first thing you might notice about The Talking Car is that the title lacks the "!?!" punctuation made standard by A Talking Cat!?!.
It also doesn't have voice work by Eric Roberts - unless he's uncredited, you never know with that guy!
The Talking Car is also slightly misnamed, because it features not one but SEVERAL talking cars. A little boy playing in the street is nearly hit by a car, and next thing you know another car sprouts some eyeballs and a mouth and starts talking to him. In fact, the boy finds himself in a cloudy nether world full of talking cars… so maybe that car really did hit him, after all? A dark potential interpretation the short leaves unexplored!
Instead, the boy and his growly little dog get many lessons and scoldings from the talking cars up in the clouds, including a cranky old jalopy who must've had kids saying "Do I really want to drive? Or even be inside a car, ever again?"
Join Mike, Kevin and Bill up in Weird Car Heaven for The Talking Car!
NOTE: This short first appeared LIVE in the MST3K: Reunion.
Digital HD Video file formats
Legacy devices (62.37 MB)
All digital products you purchase from RiffTrax.com are DRM-free, can be played across a large variety of devices, and are yours to keep ... forever! Even if you have a hard drive meltdown, you can always log back into the site and re-download all of your previous purchases.
For our Download and Stream products, you can stream the product to your computer or to your TV via Chromecast, or download to a device that can play the MP4 file format. For more information on our video formats, please see this KB article.
Just the Jokes are simply MP3 files which are DRM free and can be enjoyed on any device that can play this common audio format.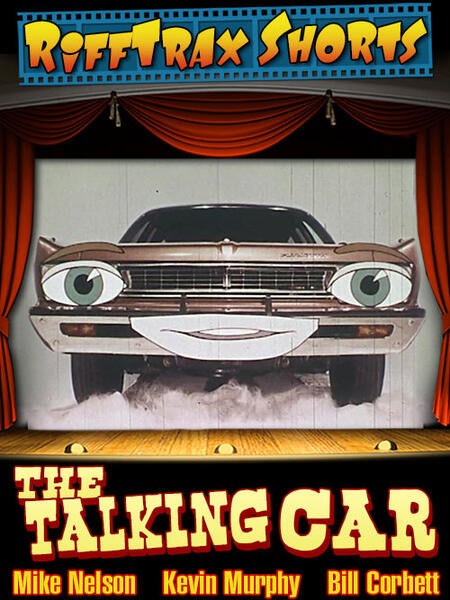 Riffed By