The Magic Shop
Please choose a format above.
The Magic Shop is almost definitely the only short we've ever riffed that was based on a story by H.G. Wells - though there are rumors his work was a major inspiration for Moose Baby.
It's a tale as old as time. A young boy pressures his dad to take him into a magic shop. The creepy magic shop owner pressures them to join him in the back room where the REAL magic happens... and for some reason they actually go. The dad is stressed out by how much everything costs, but you'll be stressed out by the creepy gorilla-hippo hybrid creature that even Dr. Moreau found "a little upsetting."
And the "magic" only gets more unspeakable from there. Join Mike, Kevin and Bill for the stone cold literary classic that is H.G. Wells' The Magic Shop!
NOTE: This short first appeared LIVE in the Space Mutiny show.
Written by: Mike Nelson, Bill Corbett, Conor Lastowka, and Sean Thomason
Digital HD Video file formats
Legacy devices (46.83 MB)
High (TV) 480p (226.97 MB)
HD Medium 720p (225.44 MB)
All digital products you purchase from RiffTrax.com are DRM-free, can be played across a large variety of devices, and are yours to keep ... forever! Even if you have a hard drive meltdown, you can always log back into the site and re-download all of your previous purchases.
For our Download and Stream products, you can stream the product to your computer or to your TV via Chromecast, or download to a device that can play the MP4 file format. For more information on our video formats, please see this KB article.
Just the Jokes are simply MP3 files which are DRM free and can be enjoyed on any device that can play this common audio format.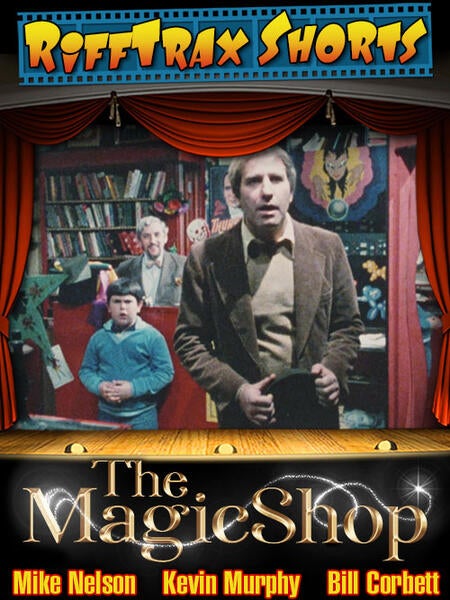 Riffed By