The Little King: Christmas Night
Please choose a format above.
The Little King was a comic strip that started in the 1930s and ran for decades, following the misadventures of a silent and extremely round monarch who seems to wind up in his underpants. A lot.
Long before Garfield gorged on lasagna, the Little King was feasting away and, presumably, hating Mondays.
The Little King: Christmas Night is an animated short that allows the raw, unadulterated roundness of the king explode across the silver screen. He feels lonely at Christmas, so he picks up a couple of old-timey hobos and takes them back to his castle. There he feeds them (nice) and makes them take a bath with him (maybe not so nice?).
What will happen to the Little King and the hobos when Santa arrives? A power struggle? Long underwear with butt-flaps? Unexpected tattoo reveals?
One thing's for sure: it's never quite clear if the Little King is a child with a beard or just a deeply immature man. But he is fun in a weird, confusing kind of way. Join Mike, Kevin and Bill and help us try to make sense of The Little King: Christmas Night!
Written by Mike Nelson, Conor Lastowka, and Sean Thomason
Digital HD Video file formats
Legacy devices (30.61 MB)
High (TV) 480p (152.62 MB)
HD Medium 720p (152.7 MB)
HD High 1080p (869.96 MB)
All digital products you purchase from RiffTrax.com are DRM-free, can be played across a large variety of devices, and are yours to keep ... forever! Even if you have a hard drive meltdown, you can always log back into the site and re-download all of your previous purchases.
For our Download and Stream products, you can stream the product to your computer or to your TV via Chromecast, or download to a device that can play the MP4 file format. For more information on our video formats, please see this KB article.
Just the Jokes are simply MP3 files which are DRM free and can be enjoyed on any device that can play this common audio format.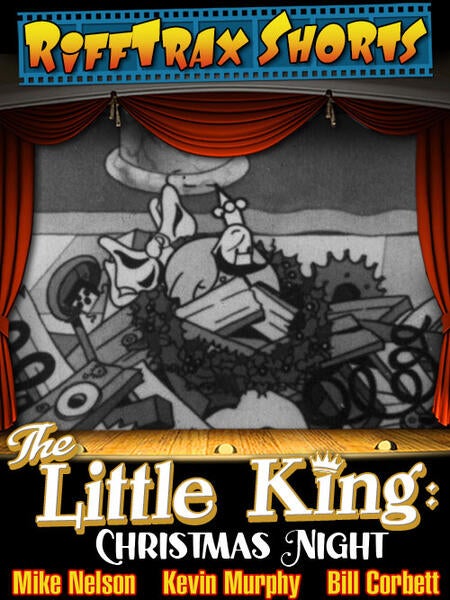 Riffed By