The Bill of Rights in Action
Please choose a format above.
It seems that forty years ago, one out of every three instructional films was about The Bill of Rights (the rest were about either syphilis and/or Mr. Bungle.)  So it was only natural that we'd finally get around to riffing a short focused on the Bill of Rights, and we had just the one in mind!  Unfortunately, that episode of Schoolhouse Rock where the bill becomes a law proved far too expensive to acquire, and we had to go with Plan B.
Plan B turned out to be The Bill of Rights in Action.  It proved far more exciting than The Bill of Rights Takes it Easy and is a veritable thrill ride compared to The Bill of Rights is Feeling Kind of Hungover, So Could You Put On the 'Saved By The Bell' Marathon and Pick Him Up a Gatorade and a Breakfast Burrito.  And even though we wish it would focus more on our favorite amendment (#9, Protection of rights not specifically enumerated in the Bill of Rights, booyah), it makes the admittedly more populist choice and focuses on the granddaddy of all rights, Freedom of Speech.  It's a delightful romp where a pale Nazi goon rants outside of a synagogue and gets his ass handed to him by an enraged mob.  So all things considered, it is far less creepy and disturbing than the episode of Schoolhouse Rock would have been.
Mike, Kevin and Bill exercised their freedom of speech by getting tattoos of the "Conjunction Junction" conductor.  They're not telling where.
Digital Video file formats
Legacy devices (40.82 MB)
All digital products you purchase from RiffTrax.com are DRM-free, can be played across a large variety of devices, and are yours to keep ... forever! Even if you have a hard drive meltdown, you can always log back into the site and re-download all of your previous purchases.
For our Download and Stream products, you can stream the product to your computer or to your TV via Chromecast, or download to a device that can play the MP4 file format. For more information on our video formats, please see this KB article.
Just the Jokes are simply MP3 files which are DRM free and can be enjoyed on any device that can play this common audio format.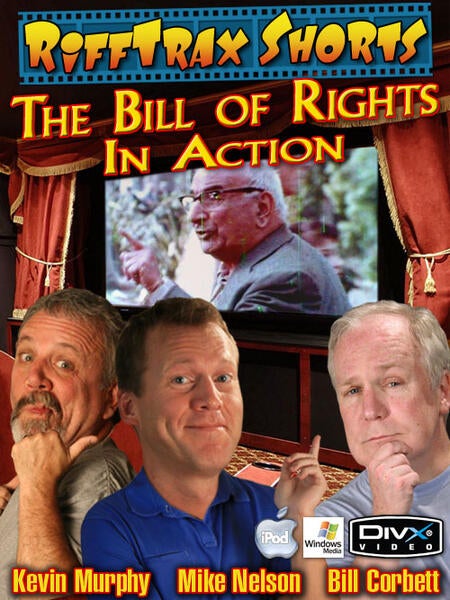 Riffed By