Soapy The Germ Fighter (Live Edition)
Please choose a format above.
Live show riff available for the first time! We riffed this sparkling sudsy gem of a short LIVE in Nashville before our Mothra show in 2016, and now you can soap it up at home! Uh, sorry, that sounded kinda weird. But then, so is Soapy the Germ Fighter.
Over the years we've faced down a host of shorts featuring anthropomorphic objects coming alive to haunt children in their rooms, from Coily to Mr. Paperbag to A Talking Car to Norman (okay, Norman never actually did that, but you know he WOULD if he could). Somehow, Soapy the Germ Fighter manages to be the least inspired AND oddest monster of the bunch. Least inspired because he's just a giant bar of soap named Soapy. Oddest because he has arms and legs and dresses in Renaissance garb for no apparent reason. You'll find him in the tub, waiting, watching, judging, and tuning his lute. Uh, again, sorry, that sounded kinda weird. But then... well, you know.
You're not clean, and Soapy knows it. Soapy knows everything. Get yourself sorted out and scrub the fear away with Soapy the Germ Fighter, riffed live by Mike, Kevin and Bill!
Digital HD Video file formats
Legacy devices (50.54 MB)
All digital products you purchase from RiffTrax.com are DRM-free, can be played across a large variety of devices, and are yours to keep ... forever! Even if you have a hard drive meltdown, you can always log back into the site and re-download all of your previous purchases.
For our Download and Stream products, you can stream the product to your computer or to your TV via Chromecast, or download to a device that can play the MP4 file format. For more information on our video formats, please see this KB article.
Just the Jokes are simply MP3 files which are DRM free and can be enjoyed on any device that can play this common audio format.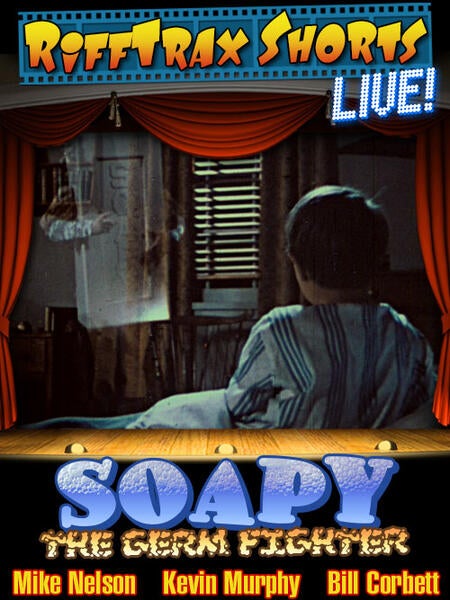 Riffed By