Santa's Spaceship
Please choose a format above.
Here come's Santa's Spaceship! Because, apparently, a magic sleigh that can fly all over the planet in one night wasn't enough for him. Honestly, it just seems a little greedy!
Santa's Spaceship starts with a marionette cowboy singing a western song to an ailing reindeer, and gets weirder from there. All the marionettes living at the North Pole are worried about making the Christmas deliveries because the reindeer are getting old and tired. Rather than, say, try to help the reindeer who have served faithfully for so long, marionette Santa and his marionette friends decide to trade 'em in for a used rocketship. The used rocketship salesman makes it pretty clear he will turn the reindeer into hamburger, but Santa goes through with the deal anyway. And still, somehow, it again gets weirder from there!
Grab a warm mug of rocket fuel and settle in with Mike, Kevin, and Bill for the marionette madness of Santa's Spaceship!
Written by Mike Nelson, Conor Lastowka, and Sean Thomason
Digital HD Video file formats
Legacy devices (46.59 MB)
All digital products you purchase from RiffTrax.com are DRM-free, can be played across a large variety of devices, and are yours to keep ... forever! Even if you have a hard drive meltdown, you can always log back into the site and re-download all of your previous purchases.
For our Download and Stream products, you can stream the product to your computer or to your TV via Chromecast, or download to a device that can play the MP4 file format. For more information on our video formats, please see this KB article.
Just the Jokes are simply MP3 files which are DRM free and can be enjoyed on any device that can play this common audio format.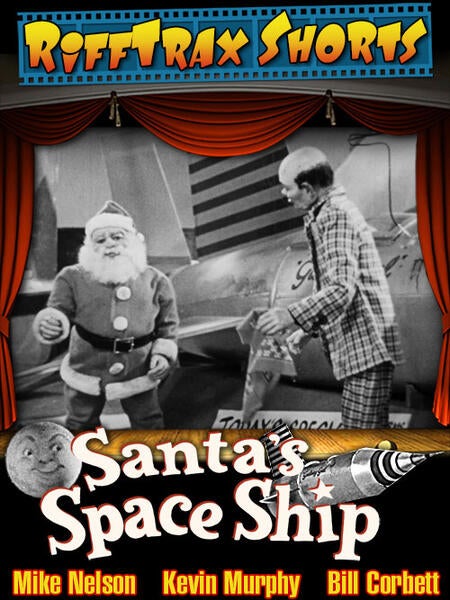 Riffed By