RiffTrax Special: 90s Cyber Thrillers
Please choose a format above.
Time to grab a stack of floppy disks, or maybe 2 of those shiny "CD-ROMs" we've been hearing about, and boot up our very first RiffTrax Special! The topic? 90s Cyber Thrillers. What's a RiffTrax Special, you may ask? That is a totally fair (and totally 90s!) question. For these Specials, we'll select a theme and a few movies we've never riffed, cherry pick our favorite scenes and riff 'em up, hot and fresh. And it's all introduced and hosted by Mike, Kevin, and Bill, right there on your futuristic video screens! Just how the 90s would have wanted it.
Cyber thrillers, and in fact the very word "cyber", ruled the 90s. And, since it was new to most people, ridiculous depictions of the internet ruled 90s movies. In this special, we take some of the biggest offenders to task. First up, Hackers, which unforgivably tried really hard to make the word "crispy," and also Matthew Lillard, happen. Then we have The Lawnmower Man, which predicted that the future would mostly be about polygonal virtual reality sex between giant dragonflies. Spot on! And finally there's The Net, in which Sandra Bullock uses chat rooms (whoa!), orders pizza from a site called "pizza.net" (who hasn't?) and faces off against her cyber-tormentors on the floor of a computer trade show (nothing says "action" like paunchy men in Dockers!)
Get your sister to stop using the landline so you can dial up and join Mike, Kevin, and Bill for 90s Cyber Thrillers! And if you've got an idea for a theme we could use in a future Special, let us know!
 
Digital Video file formats
All digital products you purchase from RiffTrax.com are DRM-free, can be played across a large variety of devices, and are yours to keep ... forever! Even if you have a hard drive meltdown, you can always log back into the site and re-download all of your previous purchases.
For our Download and Stream products, you can stream the product to your computer or to your TV via Chromecast, or download to a device that can play the MP4 file format. For more information on our video formats, please see this KB article.
Just the Jokes are simply MP3 files which are DRM free and can be enjoyed on any device that can play this common audio format.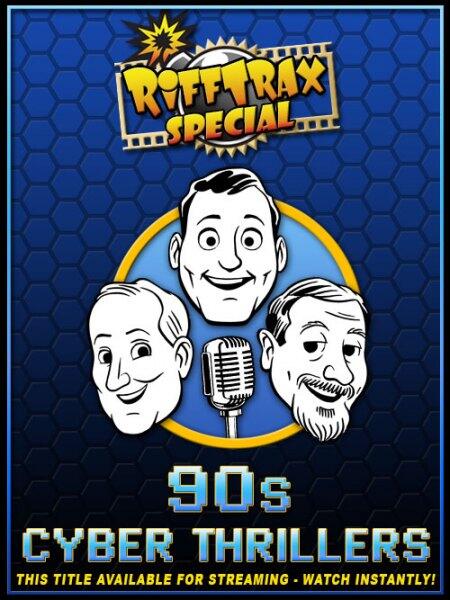 Riffed By