RiffTrax Live: Santa Claus Conquers the Martians
Please choose a format above.
Many have forgotten (or choose to forget) the Santa/Martian wars of 1964: Santa Claus Conquers the Martians bravely attempts to set the record straight. Martian parents Kimar and Momar become concerned that their children Bomar and Girmar (are you picking up the "mar" theme? BECAUSE IT'S VERY SUBTLE!) have become too attached to television programs from earth. Their solution is brilliant, if a bit of a non sequitur -- they launch a plan to kidnap Santa Claus!
The nasty Martian villain Voldar (his face is coated in green oil and he has a huge mustache, therefore he's evil) captures two Earth children, Billy and Betty, who don't hold out for even a minute but rat out our fattest, jolliest elf without a struggle. Voldar takes Santa and the children prisoner and heads off for Mars. Only the bravery of Billy and Betty and the bumbling of a stowaway and "the laziest man on Mars", Droppo, can foil Voldar's evil plans!
Throw into the mix Santa and the Fairy Snow Queen, an insane short featuring a pixie named Snoopy, a horrific life size Jack in the Box, and a lion who is oh so proud of his candy eating ability, and you've got one of our funniest live shows to date. Please join Mike, Kevin, and Bill for RiffTrax Live: Santa Claus Conquers the Martians!
Digital Video file formats
Burnable DVD Image (3.92 GB)
Legacy devices (427.3 MB)
Digital HD Video file formats
Legacy devices (427.3 MB)
Burnable DVD Image (3.92 GB)
All digital products you purchase from RiffTrax.com are DRM-free, can be played across a large variety of devices, and are yours to keep ... forever! Even if you have a hard drive meltdown, you can always log back into the site and re-download all of your previous purchases.
For our Download and Stream products, you can stream the product to your computer or to your TV via Chromecast, or download to a device that can play the MP4 file format. For more information on our video formats, please see this KB article.
Just the Jokes are simply MP3 files which are DRM free and can be enjoyed on any device that can play this common audio format.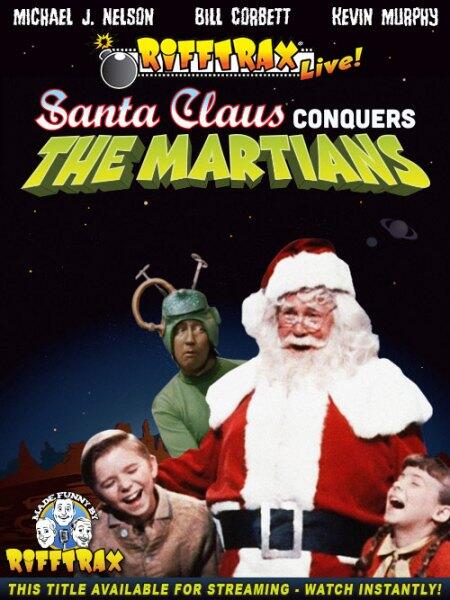 Riffed By