RiffTrax Live: Reefer Madness
Please choose a format above.
On August 19th, thousands witnessed what can only be described as one of the top two RiffTrax Live events of 2010!
In RiffTrax Live: Reefer Madness, Mike, Kevin and Bill deliver their trademark form of rapid fire comedy in front of a live audience! Lines could be flubbed! Tomatoes could be thrown! Mountain lion attacks are entirely possible!
The performance not only includes the classic anti-marijuana propaganda film Reefer Madness, but also three shorts which quickly became instant classics: More Dangerous Than Dynamite, Frozen Frolics, and At Your Fingertips: Grasses. Among the most insane things the guys have ever riffed, they'll clear up any questions you might have about washing your clothes in gasoline and whether corn is grass.
RiffTrax Live: Reefer Madness: it's the perfect chance to hear all the jokes that you missed because you were laughing too hard the first time!
Digital Video file formats
Legacy devices (410.58 MB)
Download to Burn (.iso) (4.33 GB)
Digital HD Video file formats
Legacy devices (410.58 MB)
Download to Burn (.iso) (4.33 GB)
All digital products you purchase from RiffTrax.com are DRM-free, can be played across a large variety of devices, and are yours to keep ... forever! Even if you have a hard drive meltdown, you can always log back into the site and re-download all of your previous purchases.
For our Download and Stream products, you can stream the product to your computer or to your TV via Chromecast, or download to a device that can play the MP4 file format. For more information on our video formats, please see this KB article.
Just the Jokes are simply MP3 files which are DRM free and can be enjoyed on any device that can play this common audio format.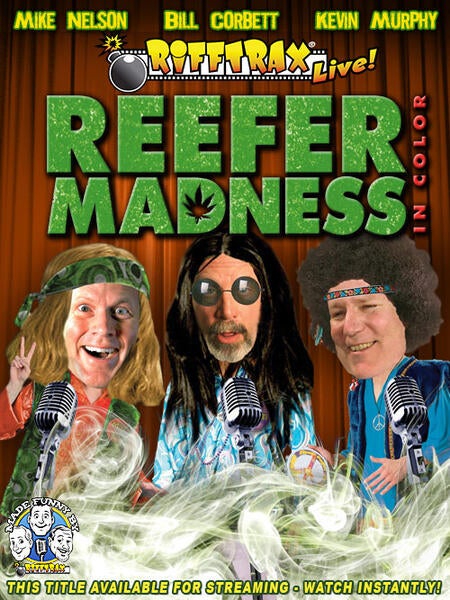 Riffed By