RiffTrax Live: Night of the Living Dead
Please choose a format above.
Fresh out of the grave and ready to riff! Enjoy the spooky fun of this RiffTrax Live show, which includes the final short in the beloved Norman Krasner series, Norman Gives a Speech— because Norman is EVERYONE'S favorite zombie!
This classic 1968 horror film is where it all began. No, not the cronut trend, we're talking about the omnipresent zombie craze! 28 Weeks Later, Resident Evil: Retribution, that Zack Snyder remake of Dawn of the Dead...We wouldn't have any of them without Night of the Living Dead! (Pause to think about whether this is a good thing.)
When she's attacked in a cemetery by zombies, a young woman named Barbara flees to an abandoned farm house. There she's joined by a ragtag group of survivors who band together to wait out the apocalypse, with the occasional light descent into madness. The rest of the movie plays out like The Big Chill, but instead of Glenn Close sobbing naked in the shower, they board up windows and occasionally get devoured alive. So in this respect, Night of the Living Dead is the slightly less depressing movie.
Shotguns! Molotov cocktails! Exploding cars! Headshots galore! Like one of those awesome zombie video games (except you don't get to play it), RiffTrax Live: Night of the Living Dead is guaranteed to be scarier than Brad Pitt's beard in World War Z and funnier than the acting on The Walking Dead! You won't want to miss it!
Digital Video file formats
Download to Burn (.iso) (3.92 GB)
Legacy devices (450.4 MB)
Digital HD Video file formats
Download to Burn (.iso) (3.92 GB)
Legacy devices (450.4 MB)
All digital products you purchase from RiffTrax.com are DRM-free, can be played across a large variety of devices, and are yours to keep ... forever! Even if you have a hard drive meltdown, you can always log back into the site and re-download all of your previous purchases.
For our Download and Stream products, you can stream the product to your computer or to your TV via Chromecast, or download to a device that can play the MP4 file format. For more information on our video formats, please see this KB article.
Just the Jokes are simply MP3 files which are DRM free and can be enjoyed on any device that can play this common audio format.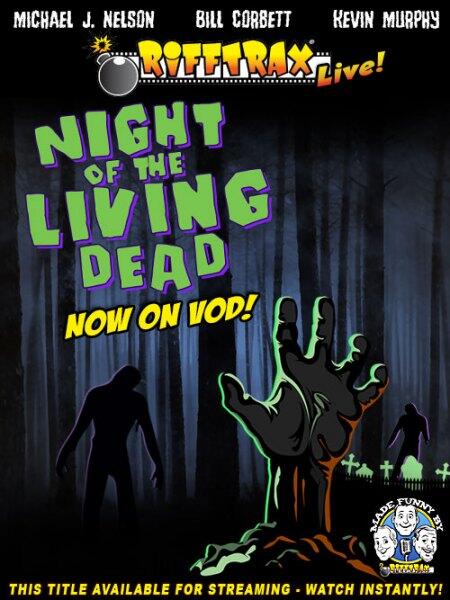 Riffed By