RiffTrax Live: Miami Connection
Please choose a format above.
If you put everything about the 80s in a blender, then somehow ran the resulting smoothie through a translator that only speaks languages from another dimension, what you'd wind up with still wouldn't be half as hilarious, weird, and oddly charming as Miami Connection.
It's 1987, and the Biker Ninjas behind the Miami drug trade are finding themselves facing the newest heroes in town: the Taekwondo-loving rock band Dragon Sound! They'll focus all of their black belt skills, alongside performing their hit songs "Friends" and "Against the Ninja" at a popular Orlando night club - to end the threat of Ninja Biker violence once and for all!
Digital Video file formats
Legacy devices (428.7 MB)
Download to Burn (.iso) (3.98 GB)
Digital HD Video file formats
Legacy devices (428.7 MB)
Standard definition DVD Image (3.98 GB)
All digital products you purchase from RiffTrax.com are DRM-free, can be played across a large variety of devices, and are yours to keep ... forever! Even if you have a hard drive meltdown, you can always log back into the site and re-download all of your previous purchases.
For our Download and Stream products, you can stream the product to your computer or to your TV via Chromecast, or download to a device that can play the MP4 file format. For more information on our video formats, please see this KB article.
Just the Jokes are simply MP3 files which are DRM free and can be enjoyed on any device that can play this common audio format.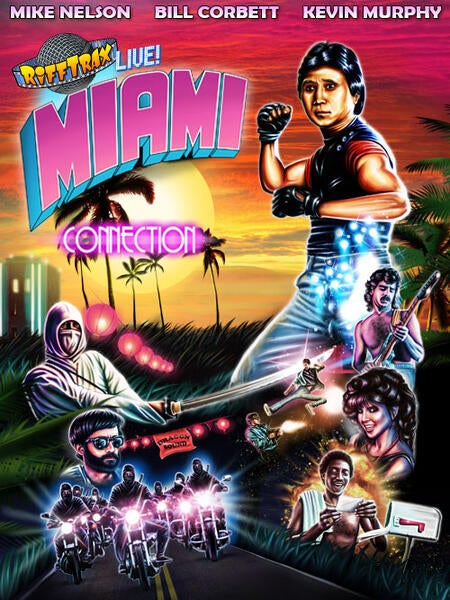 Riffed By