Reading: Who needs it?
Please choose a format above.
Reading. Like it or not, (and as a people, we've cast a resounding vote for 'not'), it's something most of us have to do every day.
Whether it's selectively combing news stories for the portions of them you agree with, figuring out what your $1.14 in change can buy you from the Wendy's drive-thru window, or trying to decipher the unspeakable, misspelled profanity left on the YouTube video of your infant son laughing, reading is a part of our daily lives. But more and more often, people are starting to ask themselves Reading: Who Needs It? Granted, most of these people are biased against reading having just finished reading a Dan Brown novel, but it's still a question worth debating.
Reading: Who Needs It? The Short attempts to address Reading: Who Needs It? The Question.  We witness the daily lives of three illiterate High School students.  The short intends to cast these kids in a negative light, but truly the achievement of progressing into your junior year of High School while all the while A) being illiterate and B) somehow keeping that a secret from everyone is quite remarkable in itself.  We are told that these students are just three of "hundreds" of illiterate students in this high school.  It is clear that this high school must be located in [insert part of the country you do not think highly of.]  
Will the illiterate actress learn to read in time to snag a role in the big school musical?  Will the mechanic put down the socket wrench and pick up the books?  Will the burgeoning basketball star continue doing things exactly as he was before, while still making more money for one game than most families earn in a year?  Tune in to Reading: Who Needs It? with Mike, Kevin and Bill to find out!
Digital Video file formats
High Quality (MPEG-2) (543.85 MB)
Commentary (mp3) (12.59 MB)
Source audio (mp3) (16.54 MB)
All digital products you purchase from RiffTrax.com are DRM-free, can be played across a large variety of devices, and are yours to keep ... forever! Even if you have a hard drive meltdown, you can always log back into the site and re-download all of your previous purchases.
For our Download and Stream products, you can stream the product to your computer or to your TV via Chromecast, or download to a device that can play the MP4 file format. For more information on our video formats, please see this KB article.
Just the Jokes are simply MP3 files which are DRM free and can be enjoyed on any device that can play this common audio format.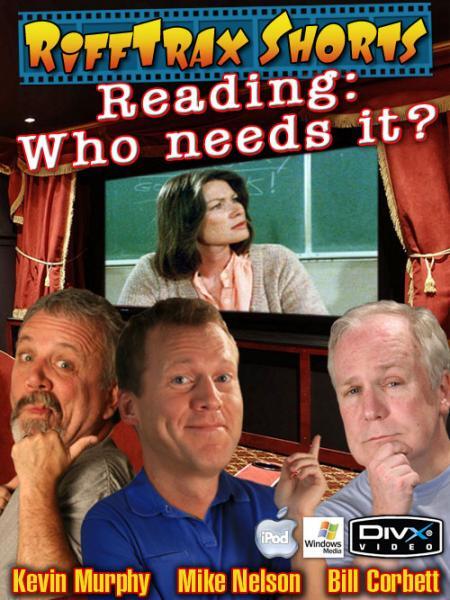 Riffed By