Radical Jack
Something you should know:
Rated R for all the same reasons that Road House was.
Please choose a format above.
"We should rip off Road House and Billy Ray Cyrus should play Dalton!"
There are two types of people in this world: those who read the above sentence and immediately lapsed into fits of hysterical, table-pounding, pants-wetting laughter. And then the other .00001% of people, who thought "Sounds good to me! Is Michelle Pfeiffer's sister available to play the love interest?"
We have that .00001% to thank for Radical Jack. Eight long years after "Achy Breaky Heart" came out, and approximately 7 years, 364 days, 23 hours, 59 minutes and 34 seconds after the first jukebox playing "Achy Breaky Heart" was smashed with a pool cue, American cinemas got the movie they needed. Except, minor detail, it was actually released direct to video in Russia.
Which makes a lot of sense once you see David Giancola's Radical Jack. Fans of Road House will recognize the key points: a loner with a mysterious past comes to town and finds employment at a local dive bar. A local arms dealer has grown rich running the town, despite the fact that its population appears to hover around 35 people. Occasionally Billy Ray takes breaks from doing construction to pour water all over himself in slow motion while seductive music plays1. The only thing missing is the Monster Truck. Once you see the budget on this thing, you'll understand why they had to leave it out.
And Radical Jack doesn't just rip off one of our all time favorite RiffTrax titles! Shot in Rutland, VT, it features the very time machine from Time Chasers itself!! (AKA, a crappy, weathered small airplane.) Join Mike, Kevin, and Bill for Radical Jack. Just don't tell their lips, their fingertips, or various other body parts.
1 This never actually happened in the version of Road House that was shown in theaters, but it does in the one that airs on a loop in our hearts.
Digital Video file formats
Legacy devices (383.32 MB)
Download to Burn (DVD Image) (4.34 GB)
Digital HD Video file formats
Legacy devices (383.32 MB)
Burnable DVD Image (4.34 GB)
All digital products you purchase from RiffTrax.com are DRM-free, can be played across a large variety of devices, and are yours to keep ... forever! Even if you have a hard drive meltdown, you can always log back into the site and re-download all of your previous purchases.
For our Download and Stream products, you can stream the product to your computer or to your TV via Chromecast, or download to a device that can play the MP4 file format. For more information on our video formats, please see this KB article.
Just the Jokes are simply MP3 files which are DRM free and can be enjoyed on any device that can play this common audio format.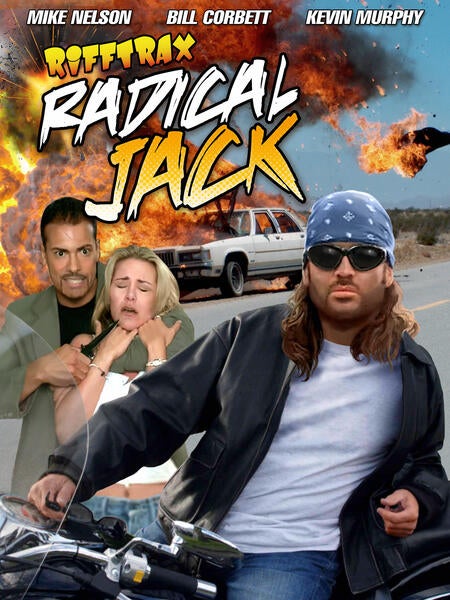 Adult language
Profanity
Sexual content
Violence
Riffed By