Play Safe (Live Edition)
Please choose a format above.
It's the 80s and loads of British kids are dying in substations! We're not sure why they're going into substations. Maybe to find out what the hell substations are?
This is clearly one of those sensitive issues that has to be handled with the utmost care. So someone poorly animated some cartoon birds and got them to lecture kids about the dangers of electricity. It's a very powerful, sobering experience. In fact, during the moving scene where a kid's pants literally catch on fire, our chortling was noticeably subdued.
This is the version of Play Safe that debuted at RiffTrax Live: The Five Doctors; it has not been seen again since!
Digital HD Video file formats
Legacy devices (41.27 MB)
All digital products you purchase from RiffTrax.com are DRM-free, can be played across a large variety of devices, and are yours to keep ... forever! Even if you have a hard drive meltdown, you can always log back into the site and re-download all of your previous purchases.
For our Download and Stream products, you can stream the product to your computer or to your TV via Chromecast, or download to a device that can play the MP4 file format. For more information on our video formats, please see this KB article.
Just the Jokes are simply MP3 files which are DRM free and can be enjoyed on any device that can play this common audio format.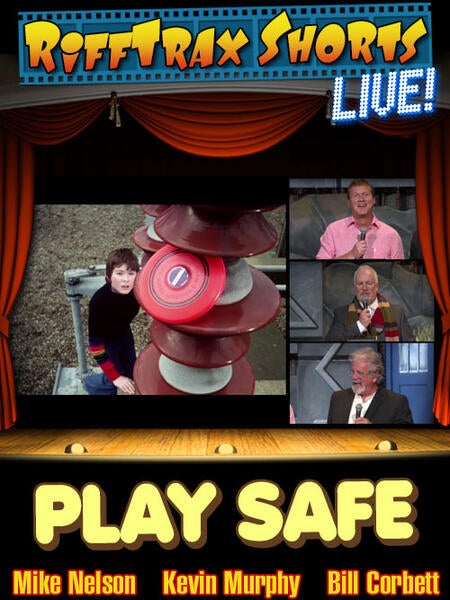 Riffed By